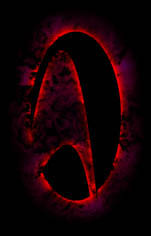 Star Trek Insurrection Promotions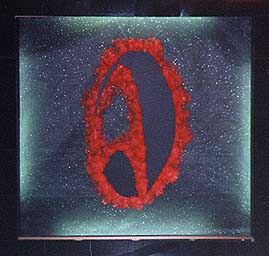 First of all, due to a lack of lobby space, I just did a poster case display for Century 22 on Winchester in San Jose. This is a black paper background with silver glitter stars, and in front is a black foamcore cutout of the chevron logo with red-painted polyester batting (stuffing) attached to simulate the plasma explosion shown at the top of this page. The foamcore cutout was hung about six inches in front of the background to give it depth.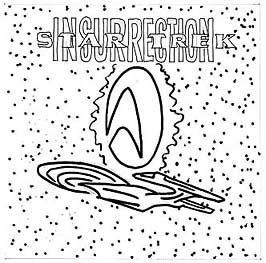 Since Century Complex on Arden in Sacramento has a huge lobby, I could create a much larger-scale promotion for them. This is the original sketch...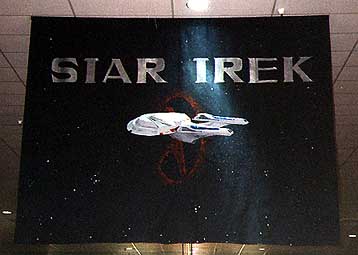 ...and this is the result. The banner is twelve-feet wide and about 10 feet long. It is made out of black felt, with silver glitter paint stars and the red sponge-painted plasma explosion, again like the image at the top of this page. Suspended in front of the banner at a rakish angle is the five-foot long papier-mache model of the Enterprise-E that I made.

(Yes, I know...the "Insurrection" lettering on the banner got left off due to time constraints...)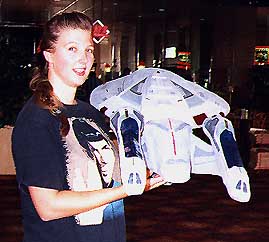 Here is a closer view of the ship model, with me holding it to give you a sense of scale. See the Making of the Enterprise-E for more pictures and details of the ship itself...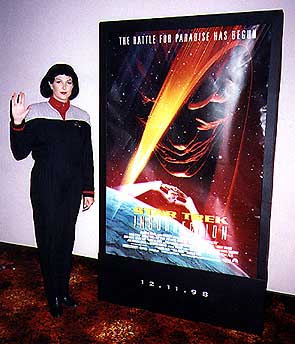 "Greetings...I am Commander T'Leo of Vulcan, your guide for the opening-day festivities for Star Trek Insurrection...Live Long and Prosper..."

Yes, this is me in costume, including a black wig...the origin of my T'Leo persona is elsewhere on this site...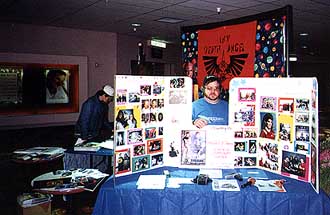 In the lower lobby where customers were waiting in line for showings of the film, local Star Trek fans had set up a display of their own...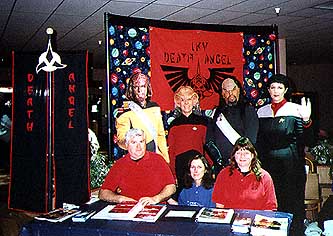 ...including even more people in costume...Ferengis and Klingons mostly...
(note we even had Worf there in person! Ha, ha...)




T'Leo was very tired by the end of her day (she had only finished the ship model at 5am on opening day, put up the display in the lobby at 10am, changed into costume by 1pm, then saw the movie twice by 11pm!), but she still had the stamina to pose for this artistic shot with the lobby display behind her...

Coming Soon! QuickTime footage of the costumed fans from the Channel 40 local TV news broadcast...!