"Barbie You Can Drive My Car"
When I was visiting Marcus in England in March 1999, look what I found in the April 1999 issue of BBC's Top Gear Magazine...! As a Miata owner myself, I found this absolutely hilarious! Of course I can't reproduce the entire six-page article here, but I can tell you I laughed pretty hard at the British version of Barbie's exaggerated California "valley-speak", let alone all the thinly-veiled inferences of Ken's sexual frustration (I don't know where that comes from...I was never under the impression that Barbie was a prude?) What makes this even funnier to me is that I avoided the white, yellow and red Miatas on purpose because I thought they would look too much like Barbiemobiles...!

(Don't ask me about the burnt orange color...it's all the rage overseas, and it doesn't even exist over here...)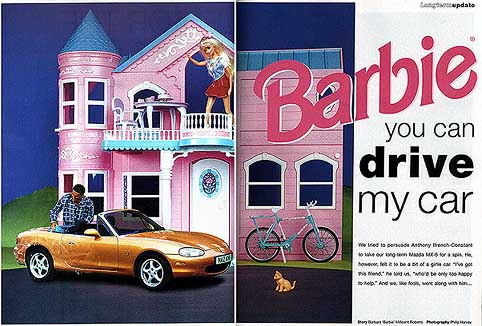 Caption:
'We tried to persuade Anthony ffrench-Constant to take our long-term Mazda MX-5 for a spin. He, however, felt it to be a bit of a girlie car. "I've got this friend," he told us, "who'd be only too happy to help." And we, like fools, went along with him...'

Story by Barbara 'Barbie' Millicent Roberts Photography by Philip Harvey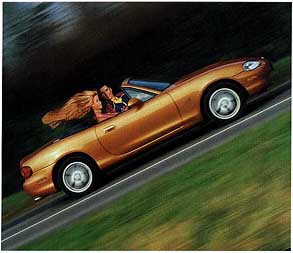 Caption:
'There's not much for Ken to do under the MX-5's bonnet, although he clearly feels the need for a good servicing from time to time'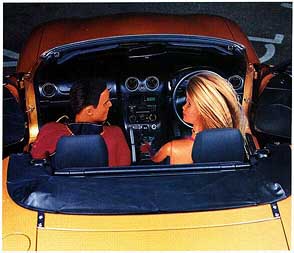 Caption:
'Our guest testers found enough space inside the MX-5 for most of their motoring needs, but Ken did have his complaints about boot size'
Here are the results of Barbie & Ken's testing from the end of the article:



WAY



Barbie: 'Like, way cool and, like, totally cute and oh-so easy to, like drive and I just look totally neat in the driver's seat, like totally. Plus it's, like, almost impossible to have sex in it. Like, phew'



Ken: 'A real cool drive for a guy too. And, like as long as you keep your shades on and talk real deep voiced all the time, no one's gonna come down on you as a, like hairdresser'
---------------

NO WAY



Barbie: 'HELLO-OH. Like, what schmuck says I wouldn't buy one? It's sure pricey in your Britain, but the day a top business doll, like, like me can't find the price of a roadster is like the day I totally, like total myself.'



Ken: 'It never, ever goes wrong and if you're, like, into mechanical stuff that can be a drag. Also, it's almost impossible to have sex in it. And...well, like, that can be a real drag too. Right.'
---------------
Britta: Oh my, GOSH...I'm so glad I'm not, like, Barbie or anything...! hee, hee...