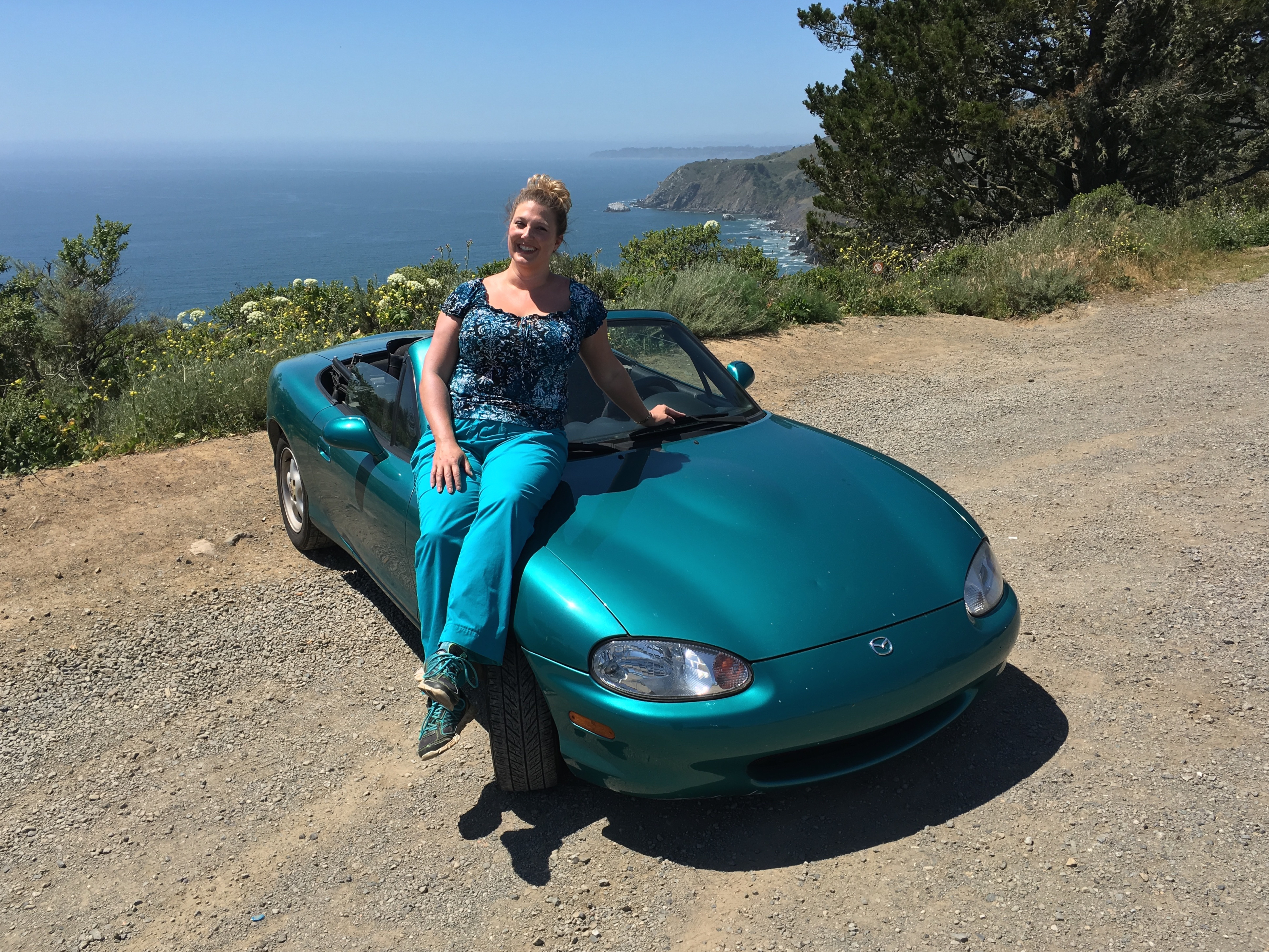 The BRIATA is TWENTY YEARS OLD!

It's hard to believe it has been two full decades since I bought my fun little car! It now has over 200,000 miles, so I am babying it as long as I can, with a few road trips a year, but driving to & from work with the top down is still as fantastic as twenty years ago! :D

If you know me at all, you know that my favorite color is teal, allowing for some variance to either side with aqua, turquoise, aquamarine, etc. This has been evident enough that I was nicknamed "Aquawoman" in college because of the most prominent color of my wardrobe. :)

Unfortunately for me, the Miata does not come standard in my favorite color. There was a color that was closer called "Splash Green Mica" which was already discontinued for 2004, but still not exactly my color from what I ever saw in person. Keep reading for the entire saga, including photos...



The BRIATA Timeline



1989 The original Miatas are released. As a highschool senior working at the local Rax drive-thru in Sacramento, Britta sees her first "live" Miata and hopes she might be able to get her own someday.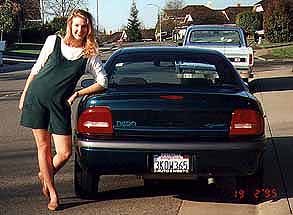 December 1994 Freshly graduated from UCDavis and in her first "real" job, at the urging of her mother and after spending her own entire holiday bonus all on old Toyota Tercel hatchback repairs, Britta begins shopping for her first new car ever. With the help of Jeff Ouye, she crunches all the numbers, even sitting in a Miata inside a showroom to be sure she fit inside (!), but alas, even the lowest Miata model was out of reach financially, so she got her beloved Neon instead. At least the Neon was a beautiful teal color and was quite fun while still being practical.

June 1997 The Neon bravely sacrifices herself on the way up to Seattle, leaving Britta uninjured, without car expenses while she was in the UK for the next 5 months, and $4500 insurance settlement in the bank.

Fall 1997 At the London Motorshow, Britta is jealous to see a bright teal right-hand drive MX-5 special edition. "Why don't they have that color in the USA?" she complains as her companions tell her to import one for herself - who cares about driving on the wrong side?

December 1997 While in the UK reading car magazines for lack of other reading material, Britta sees an article that Mazda is redesigning the Miata for the 10th anniversary, including normal headlights vs. the nasty old pop-ups, a glass rear window in the ragtop, and other nifty improvements, to be released in early spring.

February 1998 After purchasing her mother's 1994 Honda Civic as a functional car for her return to working in Silicon Valley, leaving her with no debt to speak of, Britta realizes she just might be able to afford a decent Miata at long last!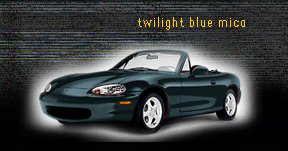 March 1998 Britta sees the brand-new Miatas arrive by trailer on Stevens Creek Blvd, the same day the brand-new redesigned Volkwagen Beetles arrive. Later that week, she goes to the dealer to sit inside with a hardtop on the car (to be sure she really still fit inside!) and investigate the colors in person. Green is a no-go (too olive in the sun), but the local San Jose dealer did not have the "twilight blue mica" that looked quite teal on the Mazda website.

April 1998 On Good Friday, home for Easter with her family, Britta goes to her credit union to get pre-approved for a new car loan, just so she has it ready for the next 30 days or so. Since she still hasn't seen the "twilight blue mica" color in person, with loan paperwork in hand she goes to the Roseville Automall just in case they might have a new blue Miata. For the complete story of the purchase and the original Miata webpage with photos, click here.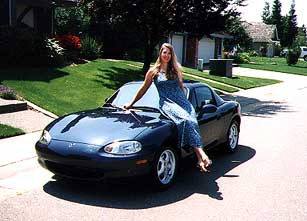 May 1998 Discouraged by not being able to figure out an amusing vanity license plate (even TLEO was taken?!?), the standard-issue plates remain for the next four years.

March 1999 On a visit to the UK, she sees a hilarious article in TopGear magazine about Barbie reveiwing the MX-5, so the photos and some text get posted on Britta Blvd here.

1999 and later Britta often says whenever the Miata eventually needs a new paint job, she will paint it teal. The Miata travels extensively and is great fun.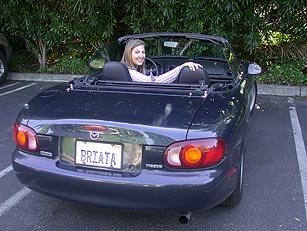 February 2002 Realizing she can pay off her 5-year loan early, Britta decides this would be a good time to revisit a vanity license plate. Calling upon her friends for inspiration, Robert Reeves creates "BRIATA" off the top of his head as a combination of Britta and Miata. Britta thinks this is absolutely hilarious!

April 2002 The new plates arrive! After getting the new plates at lunch, she comes back to work and asks a co-worker to take some digital photos immediately to commemorate the occasion.

September 2003 The BRIATA finally had her chance to visit Yosemite, so the classic Britta Blvd home page image with the rented Mustang was duplicated with the BRIATA.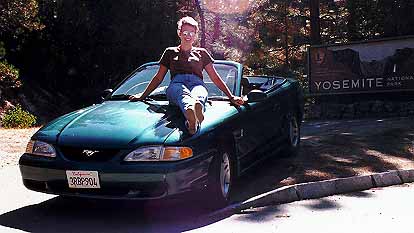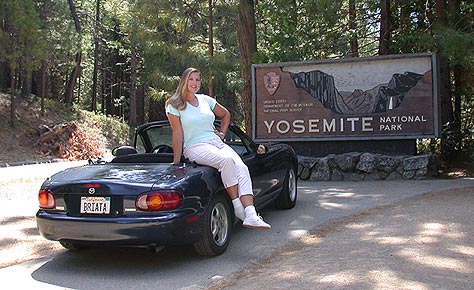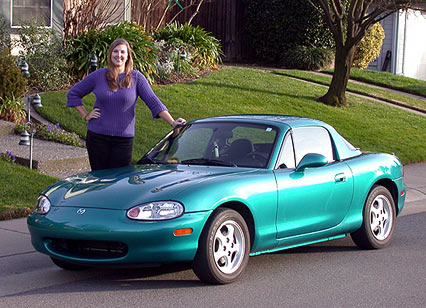 January 2004 It took the whole five years of driving around perfectly safely, but the BRIATA finally got a boo-boo that needed to be fixed properly, including repainting. Britta saw this has her chance to make the BRIATA truly her own! The new color is actually the 1994 Chevy/GMC truck/van standard color "royal teal bright." It is absolutely beautiful! :D ...As soon as the hardtop is stored away, there will be more photos, so stay tuned!

(um...yes, I'm wearing periwinkle so as not to clash with my car. :) Since I had no paint chip with me when packing my clothes for the weekend to go pick up my newly-painted car, I decided to be safe...and purple and its related shades is my second-favorite color!)




March 2004 Unseasonably warm March weather allowed Britta to do the same Santa Cruz - Hwy 1 - Half Moon Bay drive and take these photos of the newly-painted BRIATA at sunset...the hard top is now in the garage!





Doesn't the car by itself with the ocean behind look like it came out of a Mazda brochure? haha...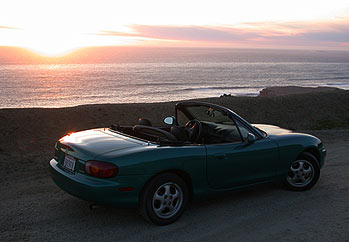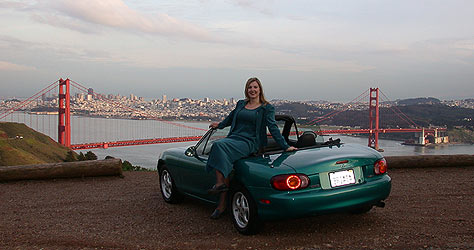 February 2005 An overcast but nice February day tour of San Francisco ended up at Marin Headlands for this lovely sunset photo. Sincere apologies that the dress slightly clashes with the car...*wince*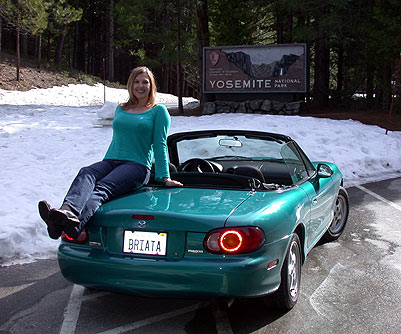 February 2005 Ta da! Finally - the image to replace the Mustang on the front site page! As mentioned in March 2004, "it'll have to go back to Yosemite again since it has changed color since last time..." Well, she got her chance February 2005! It was touch & go weatherwise to see if it would be good enough weather to risk driving her into the mountains in winter, but there were chains in the trunk just in case, and it was sunny enough for top-down driving on Hwy 120 with SNOW on the ground...haha!

(No, I did not realize until after seeing the photo that my shirt EXACTLY matches the car...hooray!)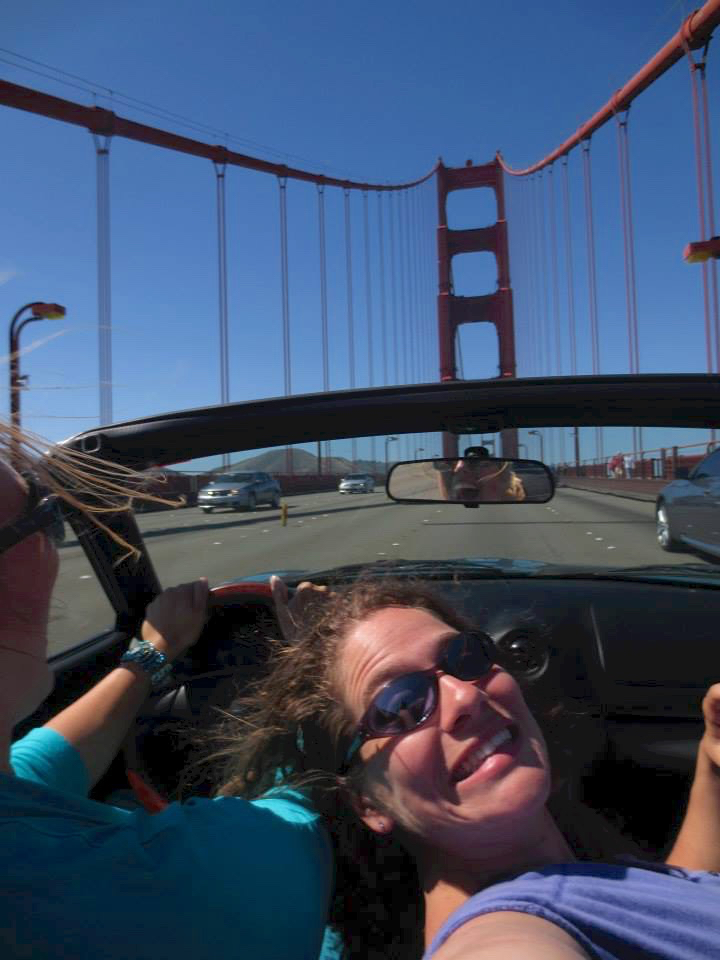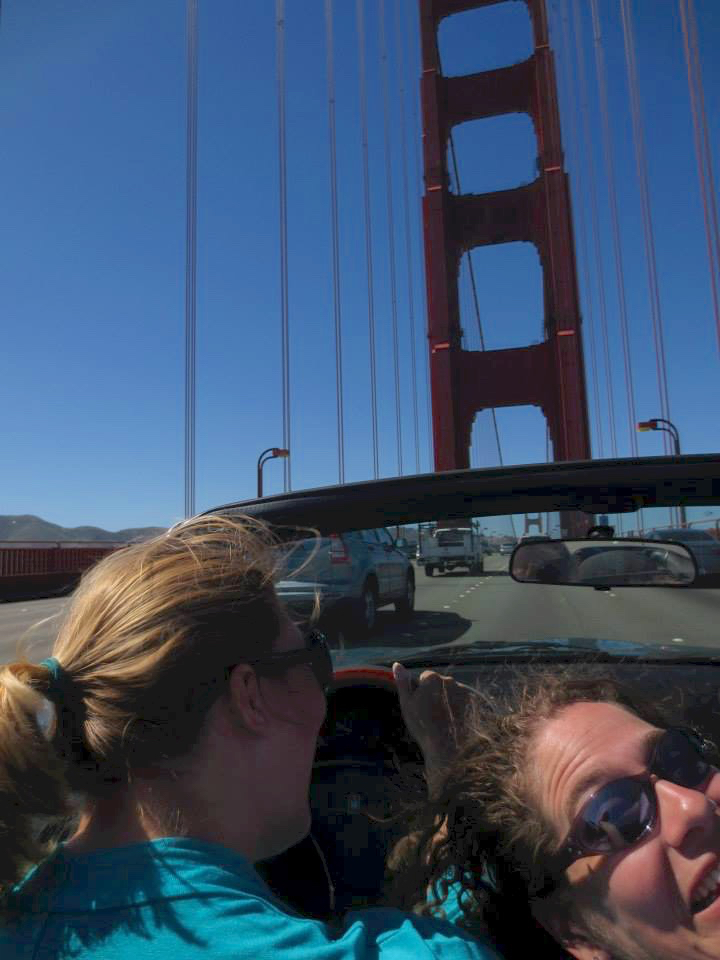 June 2013 My friend Shannon visited from Canada and finally got photos while driving across the Golden Gate Bridge in the Briata!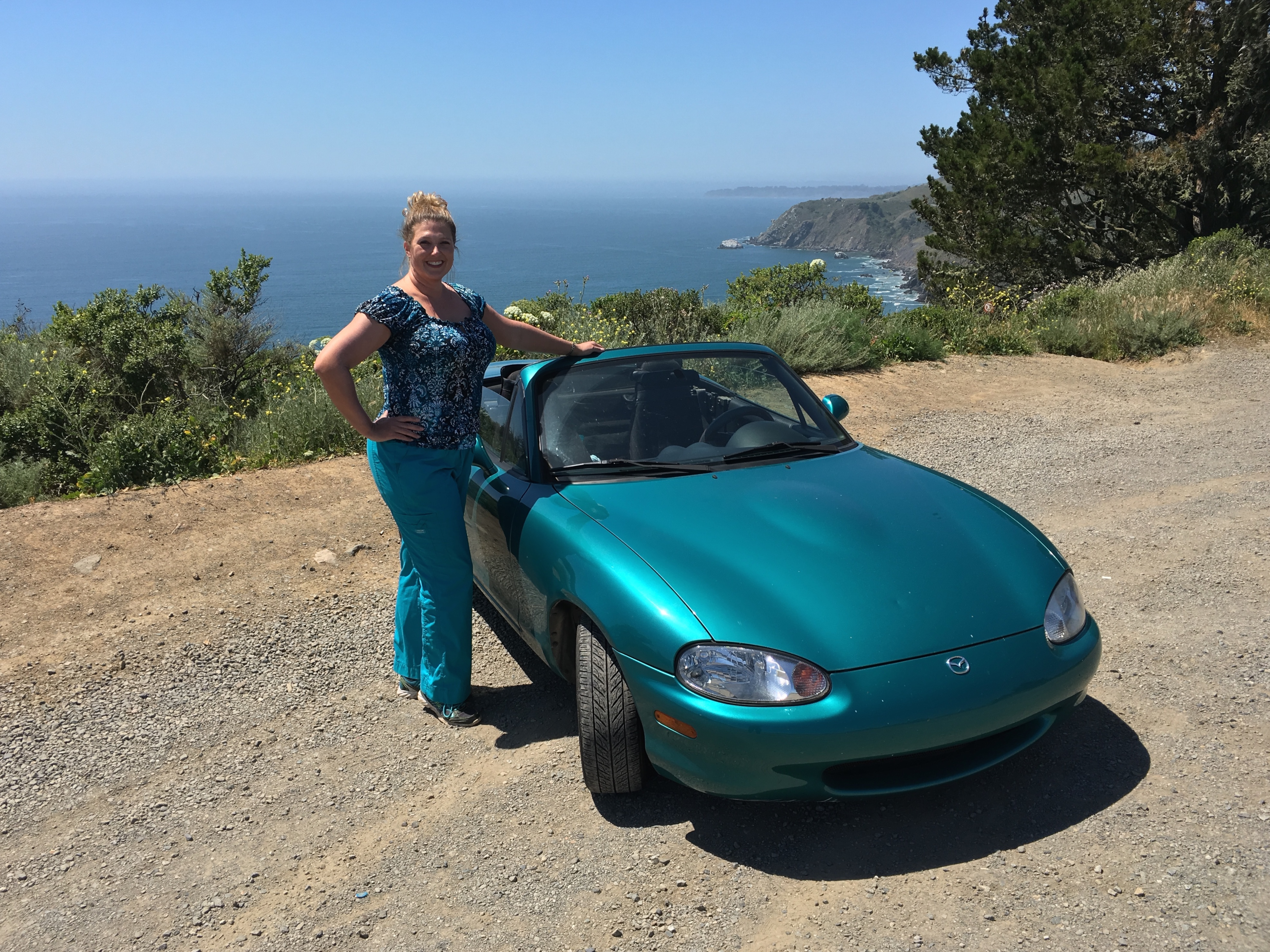 May 2016 Even after the soft top opened while driving breaking the back window glass all over me, and a couple more accident repairs, the Briata is still a blast to drive around California, here at Point Reyes in Marin on our way to a hike to Alamere Falls.













June 2016 Cool panorama angle from inside the Briata by Glen on our way to Monterey for a day trip...
...and yes, my clothes still often match my car enough that strangers comment at stoplights at gas stations! :D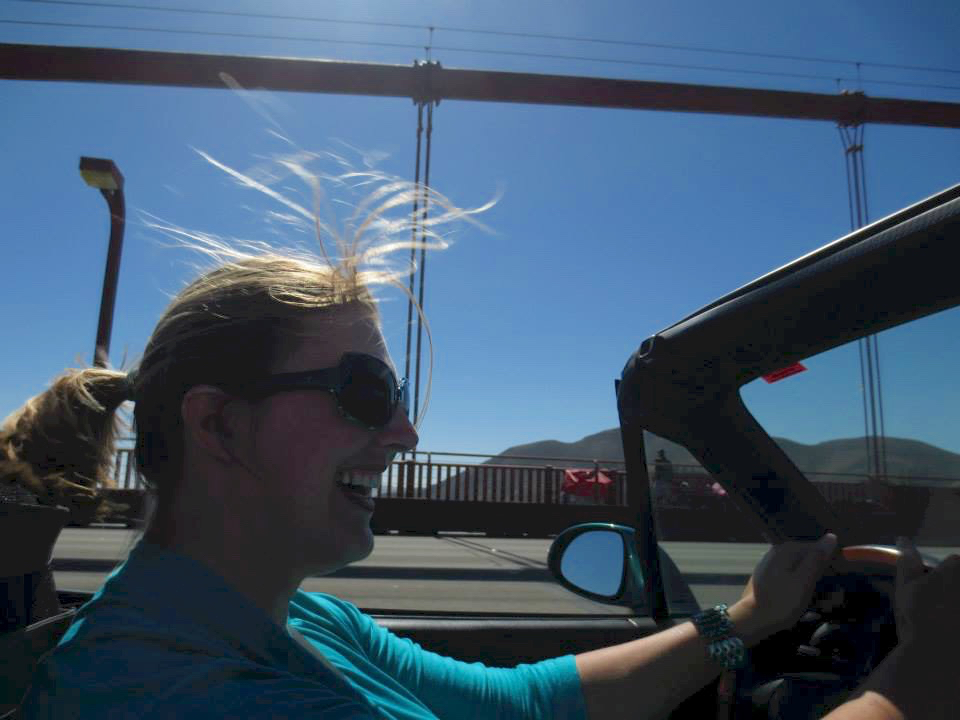 Congratulations if you made it this far! Hope you enjoyed this page as much as I enjoy my car!
I'll keep driving around again taking more photos of my pretty car whenever I get the chance... :)

...back to BrittaDotCom...