Cyndi Lauper
(May 1999)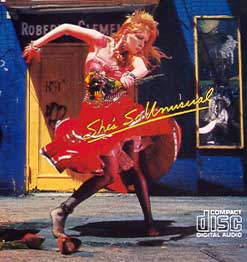 In 1999, when my friend Tracia was turning 30, she decided to soften the blow by having an 80s party, which not only included as many 80s props as possible with even a Rubik's cube cake supplied by me, but we needed to arrive dressed in 80s attire. Now, instead of just looking through my closet to see if anything still fit me from my 80s days, I decided to take this as another opportunity to make yet another costume...why not?

A friend had given me a thrashed red petticoat years ago just in case I ever decided to use it for some costume, so as soon as I started thinking 80s, I thought of the red dress Cyndi Lauper wore on the cover of her debut album She's So Unusual. Then my task was to find a good image of the album cover online, since I didn't own it myself. Once I found that, it was a mission of what I could find to approximate the whole effect.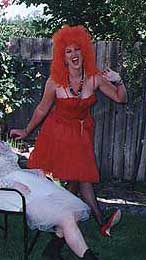 Dress:

You already know that I had the red petticoat to begin with, so all I needed to create was the bodice. I bought one of those bustier-style strapless bras and used that as the foundation for the bodice, covering it with red satin and a lace applique I dyed red to match. The lower edge of the bodice lays over the skirt, so in case I wanted to use the petticoat for another costume later, I only basted the petticoat to the bodice underneath.

Makeup & Accessories:

By searching online, I found a few good closeup face shots of Cyndi, with the yellow, red and blue eyeshadow, and since I have a large eyeshadow collection that was no problem. For jewelry, I raided my mom's stash, since she still has many large 80s style bead necklaces, so I wore big dangly earrings with lots of different necklaces. Since I couldn't find one of those chain/loop drop-waist belts, I just wore a long, large gold chain tied as the belt. I already owned the black fishnet stockings, and I found the red pumps at Goodwill for $5.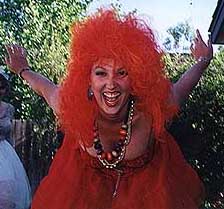 Hair:

The hair was the biggest challenge. I found a cherry-red plastic wig at a party store for about $10, trimmed it into the early Cyndi Lauper asymmetrical style, then had to use yellow spray paint over the cherry-red plastic hair, since plastic hair will NOT dye (I tried it). Finding a natural red wig that is long enough and dense enough to trim close to the "scalp" on the one side probably would have been better, but since this was in the spring, I didn't have the luxury of Halloween stock overflowing all the stores, so I went with what I could find.

---
Copyright ©1996-2008 Britta Blvd. All rights reserved. All text, photos, graphics, artwork and other original material on Britta Blvd
are copyrighted and may not be published, broadcast, rewritten or redistributed without prior written consent.