Halloween Mix CDs
I go all out for Halloween every year, so I always have to come up with something new. Since my roommate happened to have a CD burner, in 1998 I thought of making my own Halloween party mixes. The mixes got done in time for that year's party, but my tray liners didn't actually get completed until early 1999. These are shown below...

These compact disc tray liners were designed with Adobe Pagemaker, with the original images manipulated in Adobe Photoshop...

I would love to know what you think of my work, if you'd like to send me a note...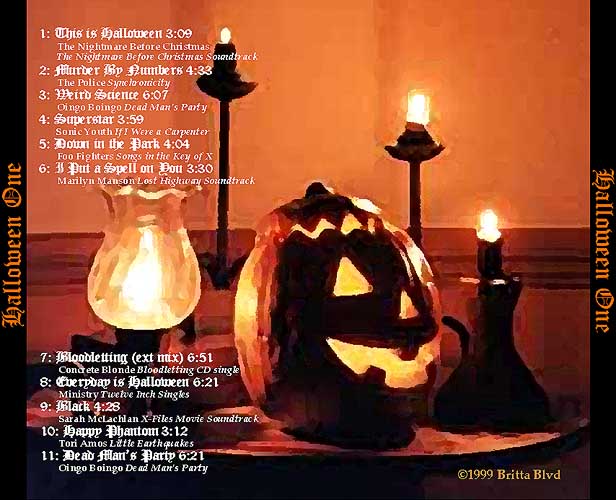 The original photo for this image was taken by Marcus Fosker in 1997 at his house in Didcot, Oxon, UK...however I used Photoshop to give it the impressionistic smudges, and the pumpkin carving and candle arrangment were also my doing...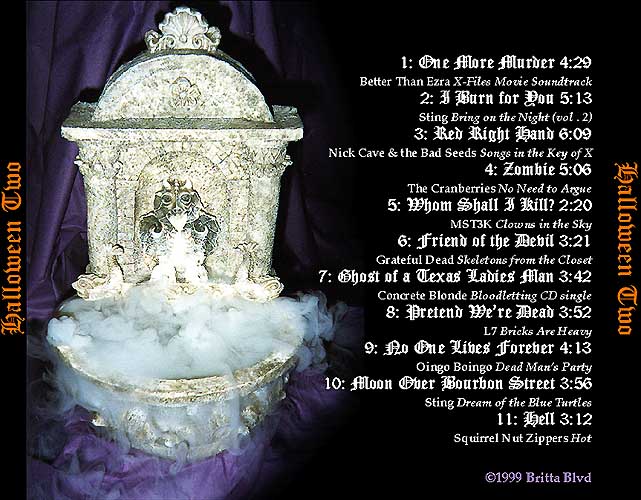 This is my own photo (taken with my snapshot camera in 1998) of my gargoyle fountain spewing dry ice fog, manipulated in Photoshop to blend into the black background...it's one of my favorites of my Halloween photos...
---