Just Plain Fun with Photoshop
These are various images on which I have honed my Photoshop skills. They have begun as a sparks of ideas, then many hours of image manipulation usually follow...and it's all just in good fun, since there was obviously no other reason to have done this to these images!

All of the following images were created using Adobe Photoshop...

I would love to know what you think of my work, if you'd like to send me a note...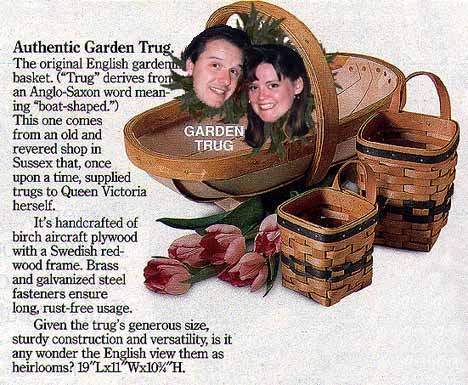 This was originally scanned from the Spring 1997 Land's End catalog, where lo and behold, we found a "trug"! We had thought this word was an original creation of Steph by combining Tracia & Doug's names, but a trug is really a shallow basket specifically for gardening...so not only did we have to buy this trug for Tracia's birthday that year, but as an extra present, I Photoshopped Tracia and Doug into the trug for them (this is also an animated GIF where their heads pop into the trug). This static image is currently being used on the Trug home page...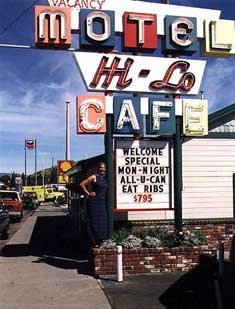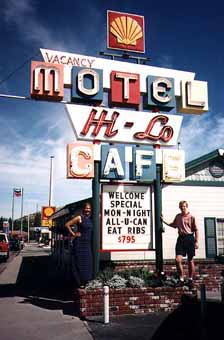 The final image of this is included in the July 1997 travels section (our unexpected overnight stay in Weed, CA). We thought this sign was just great, but we couldn't find anywhere to set the camera for a timer...so we tried to take similar pictures (difficult to do when it's not the same person taking each shot!), then I Photoshopped myself and my shadow into the picture that already included Marcus...the final result is on the right...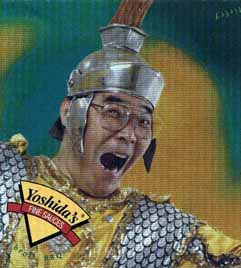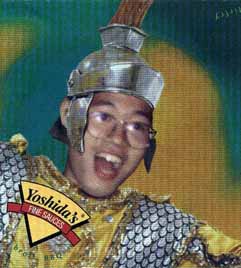 Shown first, the original is from a shipping box for Yoshida's Teriyaki Sauce I found at Price Club/Costco in June 1997...As soon as I saw it, this box was screaming to be Photoshopped with Louie Lee's face, so I had to save the box & take it with me to England, since my scanner was already shipped over there...and Tracia had an old picture of Louie that fit exactly, so I combined the two with the above results...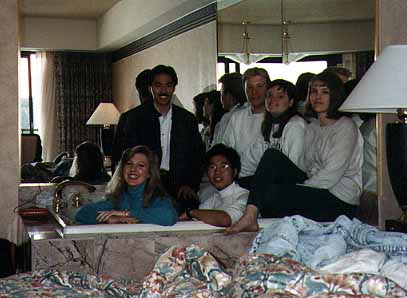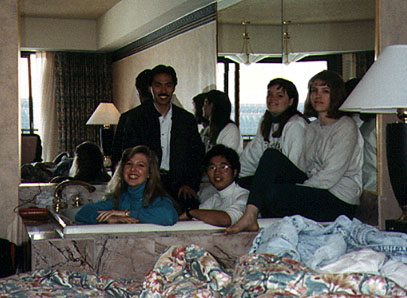 This is on the 15th floor of Caesar's Tahoe in 1993...If you look carefully, you'll notice someone missing from the second image (bad memories)... This was actually quite difficult due to the number of mirrors reflecting that person, but I think I succeeded pretty well...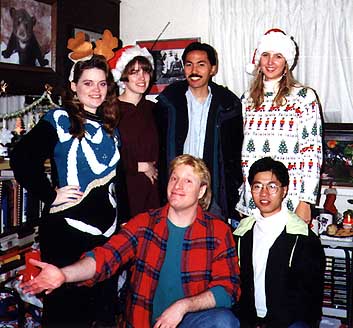 Yes, it's the same person removed from another shot, this time Christmas 1994...I just moved Louie up to the back row, so it was much easier to deal with than the mirrors above...note that I added the crisp flash shadow behind Louie to match the rest of us...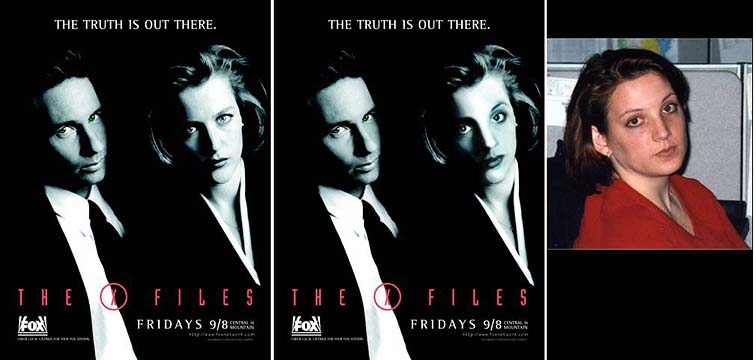 The original images are on the left and right, with my combination in the middle...Catherine is on the right, and everyone always tells her how much she looks like Agent Scully, so when by sheer chance we got this photo of her as she was turning around at work, it was screaming Scully...Choosing a monochromatic image makes life much easier since there are no skin tones to match, but if you look closely, you'll see that the original photo of Catherine was lit from the other side of her face, so I had to airbrush in highlights and shadows to make her match the original X-Files ad...
---