SmorgaBritta
SmorgasBritta was the term coined for the smorgasbord I hosted for my friends one year when I was attending UCDavis (see here for the original image). When I inherited the family task of making my grandmother's recipe for pickled salmon, I decided to shorten it to SmorgaBritta as my "brand". (I thought it flowed better without the "s") Since then, I have started using it as my brand for all my recipes, especially the Scandinavian Christmas goodies I make every year for gifts.

These labels were designed using Adobe Pagemaker, with the original image of me in my Swedish costume from Visby, Gotland, touched up and masked off in Adobe Photoshop...

I would love to know what you think of my work, if you'd like to send me a note...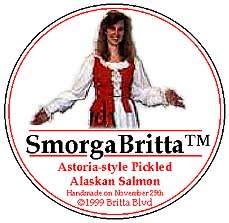 Since I had problems with adhesion of
rectangular labels to the glass jars
for my pickled Alaskan salmon,
I designed a round label for the lids...


As for the other goodies (Ghirardelli Fudge,
and Assorted Goodies Pack), the rectangular
label still sufficed...
---