Gary's Surprise 50th Birthday Party!
In 1997, my dad was turing 50, and since we had gotten my mom in 1996(you can go straight to her birthday page here), my mom really wanted to surprise my dad this year. She was really worried that he would suspect something, especially since he'd been surprised for his 30th and 40th birthdays, too. Well, she rented a room, catered the party, invited people from all over, and enlisted my brother and me to help decorate and store all the stuff to take over to the party, and the story was that she and my dad would be going out to dinner with some friends of theirs. When the Marchols showed up, they told him they were taking him to a special restaurant, so he had to be blindfolded. They took him to the party, telling him while walking up that he had to be careful since they were close to the water and he didn't want to fall in! When they came in the door, they let him take off the blindfold and see all the people saying, "Surprise!"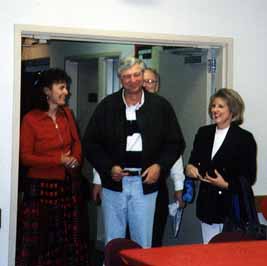 So, does he look surprised or what? After he saw everybody, he said, "I still don't know where I am..."...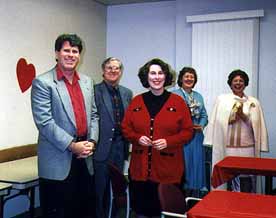 Here's a bunch of the Hansen clan...From the left, Roger Knopf, Dick Hansen, Christine Hansen, Nancy Hansen, and Carol Hansen...Roger is Christine's husband, and they came over from Menlo Park...Carol is my mom's sister, Christine's mother and Dick's sister-in-law, and she came from Seattle...Dick and Nancy came down the "hill" from the Placerville area...Wow!...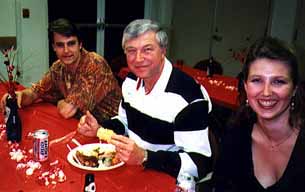 Erik, Gary and Britta having fun...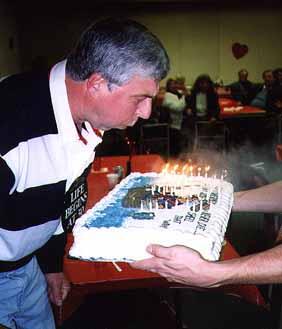 What an action shot! Yes, there really were 50 candles on that cake, and my dad blew out ALL of them! No one can accuse him of not having enough hot air, huh? (hee, hee!)...

---