Family Pictures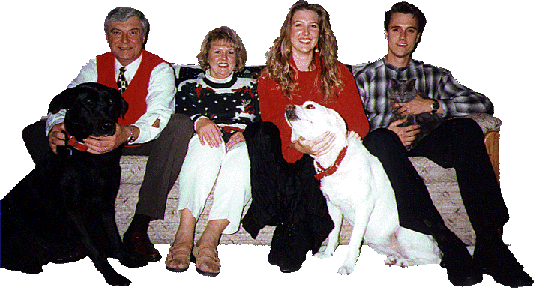 Since we keep forgetting to take a new Christmas picture, this is my immediate family photo taken at Christmas, 1995...From left to right, my dad Gary with Jente, my mom Diane, me with Cindy and my brother Erik holding Shady...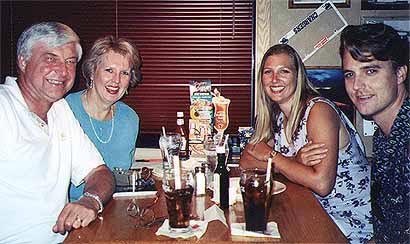 This isn't at Christmas, but this is all of us, except pets, at my birthday dinner in 2001, so at least it's more recent...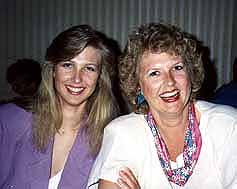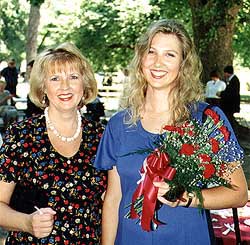 Here are photos of my mom and me...the first was taken back in 1992, and the other in 1997...Many people have said we look alike, even to the point of people who know me but have never met her before assuming she's my mother!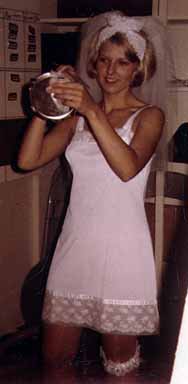 So, now do you think we look alike? This is my mother Diane getting ready for her wedding...Now, people have said as far back as I can remember how she and I look alike, but I didn't realize how much until I saw this picture again when I was the exact same age as she was when it was taken (22 years old)...I was shocked myself...I thought I could be looking at me!...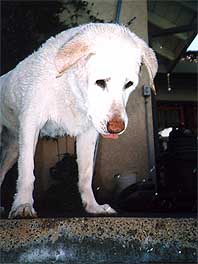 This was a typical summer day for Cindy...throwing tennis balls on your head while you're in the pool, since you're supposed to be throwing them for her! Even though she had pretty bad arthritis by the time this was taken, she still refused to "go rest" when we think she'd had enough swimming for the day...I'm sure there is a big swimming pool just the right temperature with an unlimited supply of squishy tennis balls and people to throw them for her where she is now...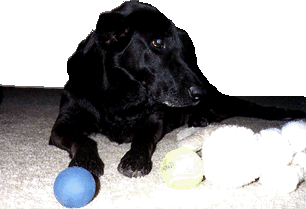 Jente is Cindy's half-sister, and she's much more mild-mannered than Cindy (well, just plain scaredy-cat, actually!). Since it's so hard to see Jente (pronouced "Yentuh"...it means "little girl" in Norwegian) because of her black fur, here's another picture of her, this time sitting under the coffeetable with her ever-present collection of toys! We have actually seen her carry a teddy bear, two tennis balls AND another toy all in her mouth at the same time!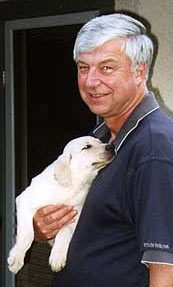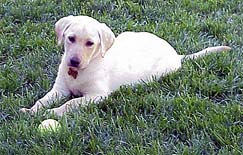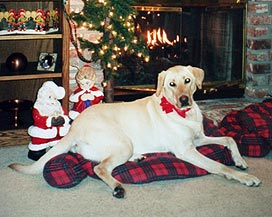 Since Cindy left us in June of 1999, the following May my parents got a yellow Lab puppy named Tule (pronouced "Toolee"). She felt safe curled up on my dad's arm the first day we took her home, soon thereafter was very cute in the grass, and here is her Christmas 2001 photo, complete with her festive red bow...awww...Looking at these pictures you'd think she was mild-mannered and calm...? haha! Little do you know! :)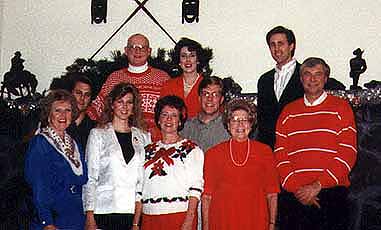 Now back to more extended family...
Top Row: Doug, Christine and Stephen Hansen
Bottom Row: Diane, Erik, Britta Peterson, Carol Hansen, Monte Clouston, Helen Clouston and Gary Peterson

This was the Clouston/Hansen/Peterson family photo on Christmas 1992...but now Christine is married to Roger, and Monte is married to Brenda, and both couples have children, too!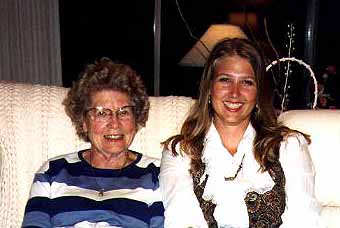 Helen Clouston, my mother's mother, and me in 1997...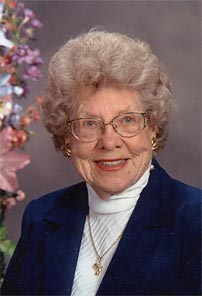 Here is a great new photo of Helen from December 2002...She looks really wonderful no matter what her age - which we are not allowed to tell you under threat of great bodily harm...haha... ;-) However, you might be able to guess since now her highschool photo is available for online viewing here...can you tell which one is Helen Bergstrom?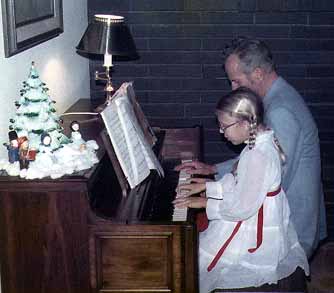 That's me on the piano bench with my mother's father, Palmer Clouston...He is no longer with us, but this is one of my earliest piano lessons from him. He never read music, but he could play anything on just about any instrument by ear. Not only that, but he was also a talented artist, whether it was wood carving, drawing or painting, or even designing the house where my grandmother still lives...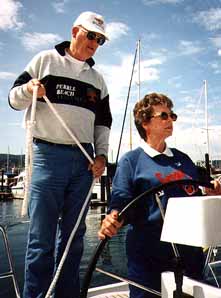 Doug and Carol Hansen on their sailboat Mariah...Carol is my mother's sister...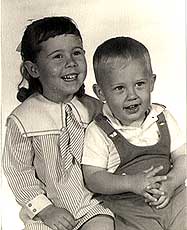 This is Christine and Stephen Hansen long, long ago...! They are Carol and Doug's children...




Here are Christine and her husband Roger from 1997...That protrustion of Christine's tummy is Peter, who is now in kindergarten and can catch the Golden Snitch all by himself!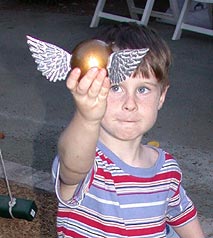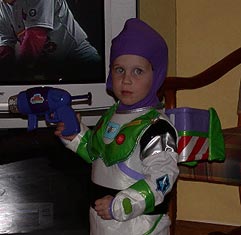 Peter also now has a little brother Andy, who is a big Buzz Lightyear fan...so much that his birthday party was all that theme, including the costume!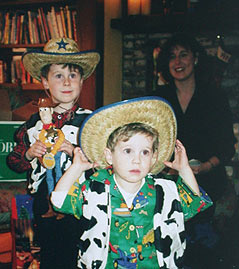 Of course, they both love their Woody costumes they got from their Grandma Carol for Christmas 2001...we think Peter actually looks a lot like Woody! :)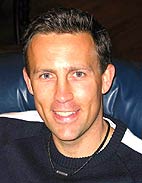 Here's my cousin Stephen, who is still single and still making atrocious amounts of money. These days, since he's bought a Lear jet with some other investors, he will usually tell you what celebrity they have recently chartered...I think Halle Berry was one of the latest...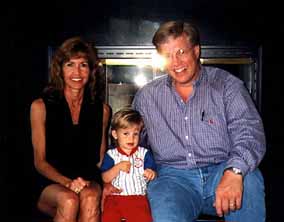 Monte is my mother's younger brother, and here he is with his wife Brenda and their son Josh in 1997...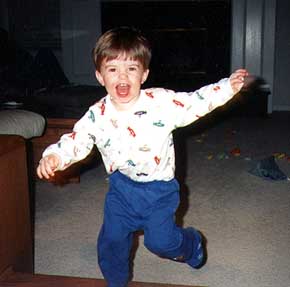 This is Josh the Monster in 1998...He now has a little brother Alex, too...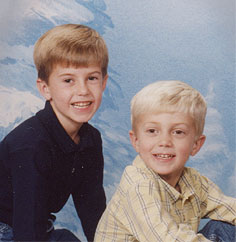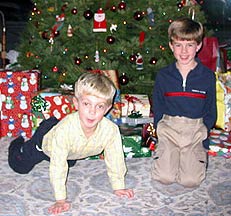 Here are Josh and Alex in their formal photo, and then at Christmas 2002 up in Seattle..."little" Alex is taking over the monster duties now, as you can see in front of the Christmas tree...haha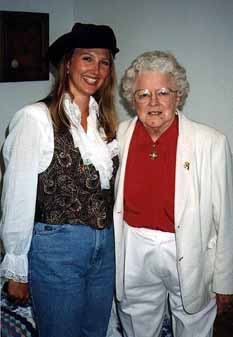 Now for the Peterson side of the family, starting with my father's mother, Althea Peterson...see if you can recognize her in the four generations picture towards the end of this page...she was the one with red hair back then...This photo is from 1997, and it is the last I have of her with me, since she left us in July of 2000...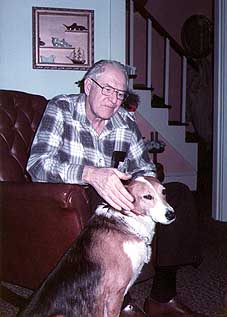 This is Roland Peterson, my father's father with his "grand-dog" Daisy...Neither of them have been with us for awhile, but we like this picture so much, since it's so "them"...Daisy was my family's first dog, and when my grandparents would come to visit, they enjoyed visiting Daisy as much as they enjoyed visiting us! When we decided to take Daisy on our annual Christmas drive up to Astoria, Oregon, one year, Grandpa made all sorts of plans for Daisy, including who he had to take her to meet, what beaches she would like, etc...hee, hee...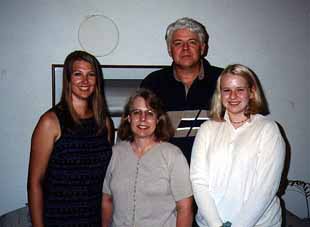 Here are more Petersons...me, my dad's brother Alan, his wife Karen, and their youngest daughter Kathleen...another photo from 1997...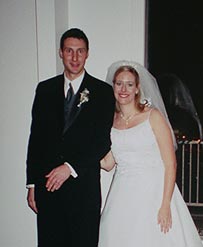 Arissa is Alan and Karen's middle daughter, and here she is with her new husband Nick. She has now passed the bar and is a practicing attorney in Seattle...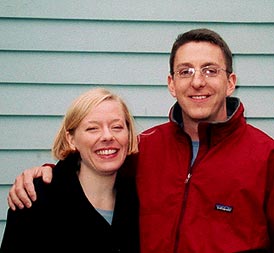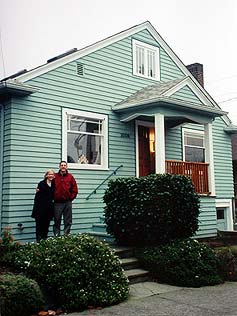 Kristina, Alan and Karen's eldest, and Ian got married a couple years ago with the ceremony in Belize, but they have now bought a cute little house in Ballard, the Scandinavian section of the Seattle area. She can walk down the street and buy lingonberries, fresh lefse, and even lutefisk! ;-)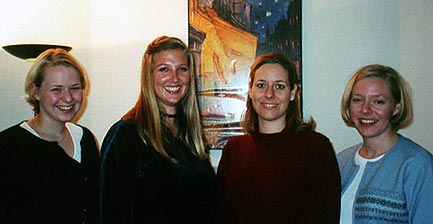 All the Peterson Girls got together the night before Arissa's wedding in December 2001, so I remembered to take advantage of the photo opportunity, since it is so rare that we're all together! :)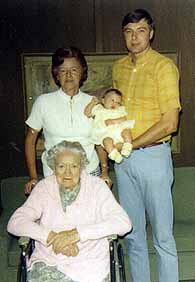 Now we go back in time...This is four generations...Me, my dad, his mother and her mother...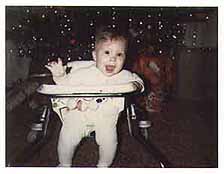 My first Christmas in 1971...guess I must have gotten a present I liked or something!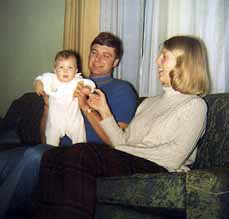 Back when I was still an only child (hee, hee)...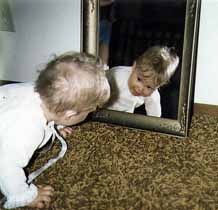 Here I am discovering that it's really me in the mirror there...Wow!...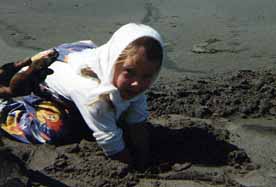 This is me at three years of age up to my armpits in sand on a chilly, Pacific Northwestern morning digging for razor clams...We caught enough to have plenty of fried clams for all of us...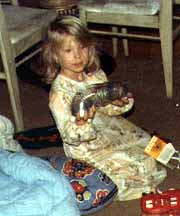 My brother was in the picture by now, but it didn't really matter at Christmas if I had my new Slinky!...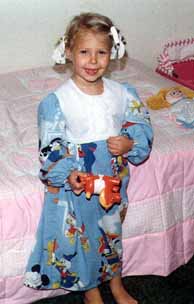 Jeff Ouye, note the approximate age of the quilt on the bed? Now, never complain again if I give you a PINK blanket when you crash at my place! Not that I like pink now, but it's a nice, functional, warm, handmade quilt, you know...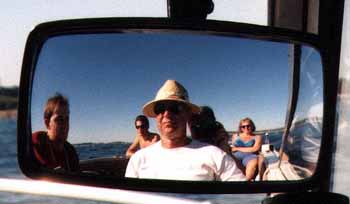 Although the boat has finally been sold after collecting dust for several years, when we didn't used to be so busy, we liked going out to Folsom Lake with our waterski boat...For some more pictures of those fun times, see the family fun with boating page...(like my dad's hat there?)...
---