Travels in France: February 1996
As soon as we landed and drove from Heathrow Airport to Spencer's Wood outside Reading, we slept for a while(jet lag, you know), and then got up to leave at 5:00 AM to drive through the Chunnel and on to EuroDisney...Yes, Americans going to Disneyland...we know, we even heard it from customs going through the Chunnel!
Anyway, there was some package deal for two rooms at the Davy Crockett Campgrounds (just little cabins...it's not like we had to pitch tents!) and two-day passes to Disneyland Paris, so Andrew and Jeff got a bunch of other NETCOM employees to go with us in two rental cars... (In fact, I was the only person who did not work for NETCOM on that trip, but I ended up at NETCOM myself from the end of 1996 until it was acquired by ICG...Sucked in you say? No comment...) The others were Jeff "Riz" (also from NETCOM USA over there to help set up shop) and two British employees, Annabel and Marcus...
After the first day at the park, Riz, Annabel and Marcus decided they'd rather go into Paris right away instead of catching the last few rides at Disneyland, but Andrew, Jeff, Louie and I had to ride Pirates of the Caribbean! We figured we would have time to catch a few rides, still get into Paris to see a few sights, then get back "home" on the Chunnel shuttle with plenty of time...Well, I won't tell you the whole story, but let's just say that we got back to Spencer's Wood at around 5:30AM when Andrew and Jeff had to be at work that same morning...but we did see the Eiffel Tower, Notre Dame, and several other famous sights while driving around trying to figure out where we were...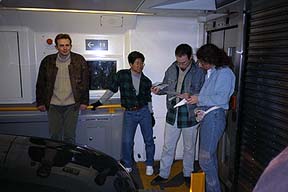 How many highly intelligent adults does it take to figure out the headlight stickers for the rental cars? Hmmm...let's count!...And then there's Marcus looking at me like, "Whyever are you taking a picture of this?!?" This was inside the Chunnel, by the way...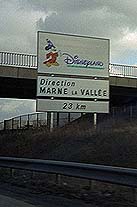 Just when we thought we might be lost...there it is! We're going to Disneyland! We kept saying that, but Annabel and Marcus just didn't get the joke...Oh, well...It amused us greatly!...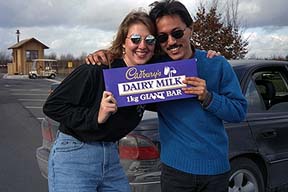 When we finally got to the Davy Crockett Campgrounds to check in, Annabel asked if anyone wanted some chocolate...and then she pulled out the hugest bar of chocolate we'd ever seen! Granted, we were tired enough to be quite silly by then, which explains a little of these pictures...This is Jeff O. and me posing with the marvelous chocolate bar...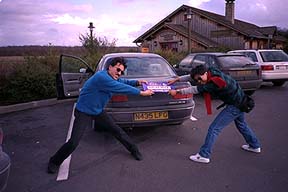 ...then Jeff and Louie decided they wanted to fight over it...I think Annabel thought we had gone insane...Those crazy Americans!...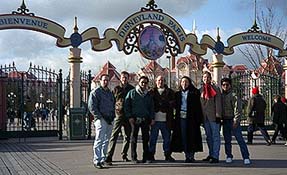 We did get inside the park at about 3:00 that afternoon, and considering it was winter, that didn't leave us much time before it got dark and very cold out...And of course, you can't even tell who is who since this picture came out fuzzy for some reason...From the left, Riz, Marcus, Jeff O., Andrew, Annabel, Britta and Louie...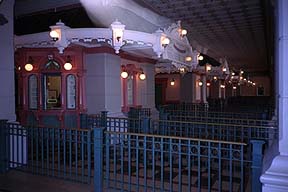 Look! Can you believe it? Absolutely NO LINES to get into Disneyland! I was amazed enough to take a picture...There were actually people at the park in line for the rides, but probably the worst line we stood in was 30 minutes...still not bad at all...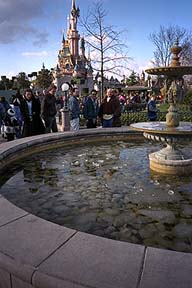 Another surprise...Ice at Disneyland that wasn't some sort of special effect? That's really ice in the fountain there! Amazing! This wouldn't happen in either Anaheim or Orlando...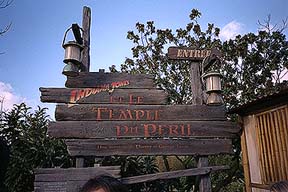 Can you read it? "Indiana Jones et Le Temple du Peril"...Just a roller coaster, though, after I kept talking all the way through the line about how cool the Indiana Jones ride is in Anaheim...Oh, well...At least Space Mountain at EuroDisney was SO much better than the original Space Mountain, it just about made up for the difference...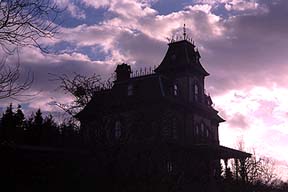 Phantom Manor (a.k.a. the Haunted Mansion) had exactly the same effects inside, but all the guides were speaking French, including the voice behind your head in the cars...I think the only English was the lady inside the crystal ball, since I'm sure they didn't want to redo that sequence...The outside of the house was much better though...It looks more like the house from Psycho...much more menacing, I think...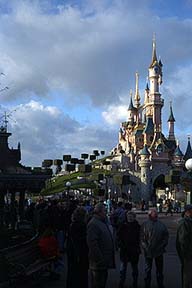 Supposedly the deal is that Sleeping Beauty's castle is in Anaheim, and this is Cinderella's castle, but they still have the Story of Sleeping Beauty exhibit upstairs in the castle...You can try to explain it yourself if you like...I like the contrast in this picture between the brightly lit fairy castle and the dingy gray of reality below...and I think I like this castle better than Sleeping Beauty's castle, especially the rectangular trees...




"Yay! Disneyland, Day Two!" Okay, we're all silly Disney fans, so of course we wanted to see how different these rides could possibly be...We had already had a taste that some were better and some weren't as great, so we at least had to catch the classic Pirates of the Caribbean...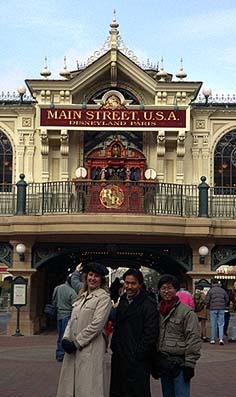 Okay, tell me what is wrong with this picture?
"Main Street, USA, Disneyland...wait...does that say 'PARIS' too?!? Does that make sense to anyone else?"...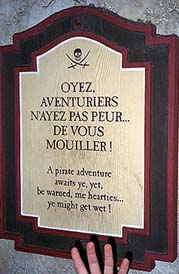 Yes! We made it to Pirates...The line control is better, since you can tell that all the amusement parks have realized that occupying the customers while they're standing in line makes them happier...Here you walk through an old Spanish colonial fortress until you get inside partially underground...I really wanted to hear "Yo Ho, Yo Ho, A Pirate's Life for Me" in French, but they just sang "yo ho, yo ho, yo-ho yo-ho yo-ho"...The rest was absolutely the same...even that one guy's hairy leg hanging over you when you go under that one bridge...ewww...
Star Tours was exactly the same ride, but the "live" droid pilot spoke in French while the movie was the original English...Nice little mixture there...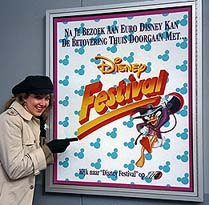 I have no idea what language this is in, but I suspect Dutch? I love Darkwing Duck, and even though he's a Disney character, you never see any mention of him anywhere inside Disneyland, so of course I got excited when I saw him(it's almost as bad as the Roger Rabbit conspiracy...How come it's Mickey's Toontown? Hasn't anyone but me seen "Who Framed Roger Rabbit"? And how come you can't find any postcards with Roger on them at Disneyland? He's even more conspicuously left out of the Toontown Trolley postcard with ALL the other characters on it...but there's no Darkwing Duck there either...Maybe Mulder and Scully should investigate this one? Maybe it's the Cigarette Smoking Man's influence over the almighty Disney Corporation? Hmmm...)...This looks like a TV ad for the Disney Afternoon to me, doesn't it?...








Even though they're calling it "Disneyland Paris" now, it's a good half-hour drive to get into Paris...We made it into the city about 4:00 PM, with just enough light left in the day for me to take some quick pictures around Notre Dame (I already knew I'd be doing a movie promotion for the Disney animated film, so I figured I might as well get some first-hand research!), but I didn't have time to go in...Too bad, since I would have loved to see the stained glass (especially since I ended up doing stained glass windows for most of my promotion!)...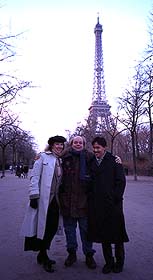 Me, Andrew and Jeff near le Tour Eiffel...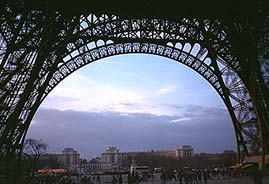 I really like this picture and how the curved base of the Eiffel Tower frames the gorgeous sky...We could only go up to the second level, since the top was already closed for the day...We made it up there just in time to see the sunset over the city...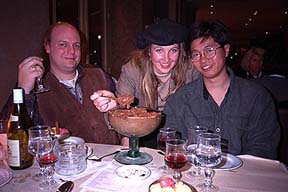 We ate dinner at a little restaurant on the Champs-Elysees (the most famous street in Paris) where our waitress spoke about as much English as Jeff and I spoke French...We got through the menu okay...nothing strange or inedible...but they listed the chocolate mousse as "a volonte" which Jeff decided was "all you can eat" or "at your will"...Well, they weren't kidding! Look at that HUGE bowl of chocolate mousse! No, we didn't even come close to eating it all...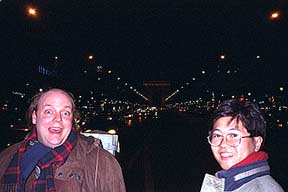 We had found the Champs-Elysees after driving around the huge Arc de Triomphe roundabout enough times to get some pictures of that monument, which you can barely make out in lights at the end of the street there (but you've all seen that before many times, I'm sure)...Don't worry, there's a median strip where we're standing...We were on our way back to the car after dinner...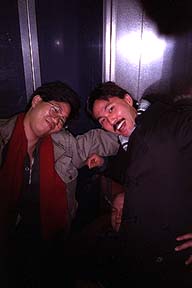 These are the bad little boys...I was the only voice of reason to take the stairs down the one floor to our car, but they wanted to take the teeny, tiny elevator...This probably would have been fine if they all didn't decide to start jumping...We're not talking three little kids here! Well, they were not only jumping, but jumping in unison, so the elevator started to resonate...Then it stopped...between floors...And there we were, stuck in an elevator on the Champs-Elysees at 9:00 PM, with half of us needing to be at work the next morning across the English Channel!...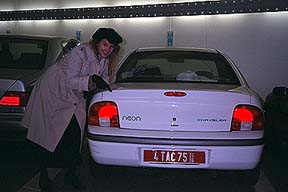 We obviously finally got out of the elevator, after calling for help in French and some people summoning the security guard or something...It was probably only about 15 minutes or so...But then I saw my first foreign Neon! I have (well, 'had') a Neon myself, but it looked so strange to see a "Chrysler Neon", since Plymouth and Dodge(instead of the parent company Chrysler) make them over here...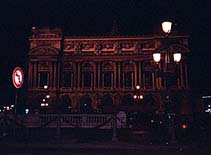 We did get to drive by a lot of famous sights while we were finding our way out of the city...This is the Paris Opera House, where the story of the Phantom of the Opera was supposed to have taken place...

We eventually made it back to the Chunnel shuttle, but we had to wait for awhile before we could take one of the trains...All in all, a very short trip into Paris, but still a lot of fun...


Copyright ©1996-2008 Britta Blvd. All rights reserved. All text, photos, graphics, artwork and other material on Britta Blvd
are copyrighted and may not be published, broadcast, rewritten or redistributed without prior written consent.


to the travels index