Travels in Calfornia, Nevada and Arizona: July 1998

Alcatraz... San Francisco... various Bay Area excursions...
Las Vegas, Nevada... the Grand Canyon, Arizona...
---
Travels to Las Vegas: July 1998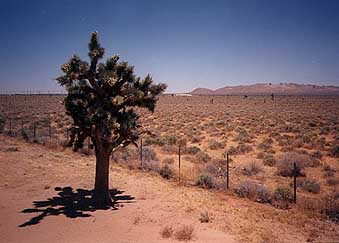 We got up bright and early to drive the Miata all the way to Las Vegas in one day...We left San Jose around 7am and got to Las Vegas around 5pm...but along the way we saw lots and lots of desert, once we got out of the Central Valley...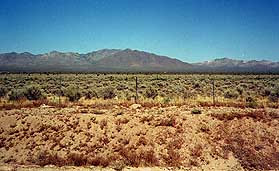 More dry scenery...this time it's officially the Mojave Desert...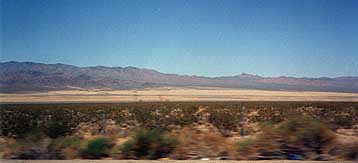 This is more Mojave Desert right at the border of Nevada, but here you can at least see some interesting colors in the large patch of sand...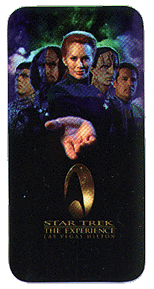 When we checked into the Las Vegas Hilton (the one where Elvis played for 8 years), we were pleasantly suprised by the electronic keys to our rooms...They're definitely going whole-hog with the Star Trek theme now that they've got the Star Trek Experience in the hotel...but of course, that's exactly why we even came to Las Vegas! From Elvis to Trek...that sounds like it could be someone's sociology thesis about entertainment culture...?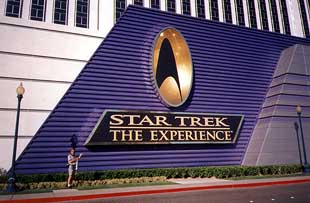 See what I mean? The sign is HUGE...but of course, everything in Las Vegas is huge, even the city blocks, as we found out when we were trying to walk places in the 107 F heat...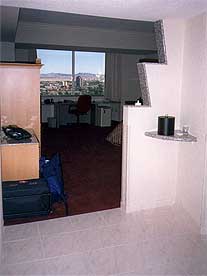 Not a bad room for $50 a night, eh? The bathroom and closet were off to the right...and below is Marcus sitting in the easy chair next to the king-sized bed...in an obviously Photoshopped image, but you can tell how big the room was...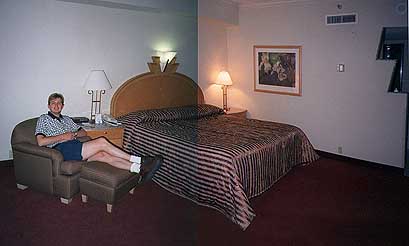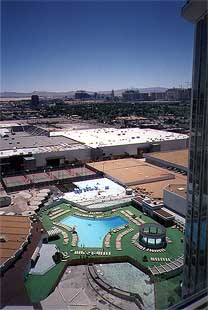 Here is the view from our window on the twenty-fourth floor...at the right side is more of the hotel...below is the pool on the roof of the third floor...and on the horizon you can see the rest of the Las Vegas Strip...believe it or not, that is only one block from our hotel!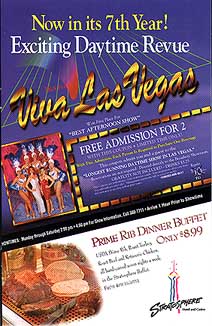 Well, even though Trek brought us to Las Vegas, Marcus decided we should at least see some Las Vegas-style show...but we didn't want to pay $70 to see Siegfield and Roy or anything like that, so we found this coupon for an afternoon show...Click on the image to zoom in on the showgirls, complete with feather headdresses! The show was cheesy, but all we had to pay for was a drink each...and now we can say we've seen Las Vegas showgirls on stage...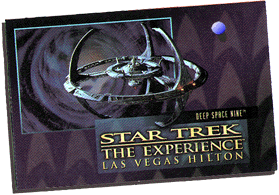 Okay, back to why we're here in the first place...Star Trek! This is the ticket for the Experience...and lucky for us, there's a discount if you use a Star Trek MasterCard...which Marcus happens to have (from BEFORE he ever met me, even!) from the Bank of Scotland...That caused a little more interest than credit cards usually do...they hadn't seen one from the Bank of Scotland before...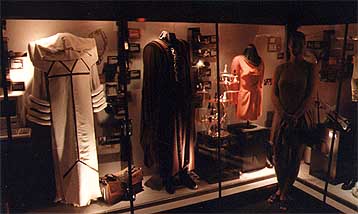 Before you get to the Experience, there's a whole museum-type display, complete with a timeline of all established Trek history (it starts with real history, then goes into our future, of course) along one side, and displays of props and costumes on the other side...and there are large video screens playing loops of clips...I thought the clips were very well done, since they had themes...one was what the various characters in the different Trek incarnations have done for the sake of friendship...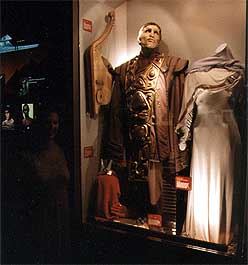 When you've spent as much time as you want in the museum section, you come to a hallway that has displays on the different aliens of Trek, including the Vulcans, shown here...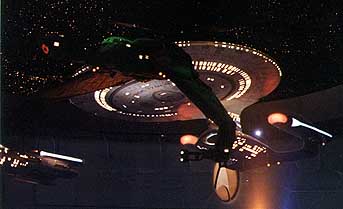 The museum goes around the Promenade below, but hanging in the middle are huge lighted models of different ships...very cool...!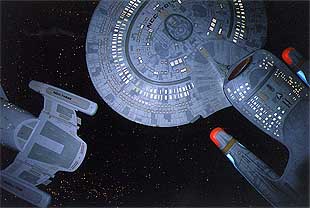 After the Experience (you didn't think I was going to tell you details about it, did you? Let's just say that "experience" is the right word for it, since it's definitely not just a thrill-ride, althought that's part of it...there's a plot...now I'll shut up...)...well, afterwards, we ate dinner at Quarks Bar and Grill...Since we wanted non-smoking, we didn't eat dinner in the bar section which is the replica of the Deep Space Nine set, but it was still cool...I took this picture by setting my camera flat on the table looking up...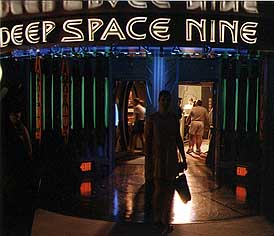 Can you see me? I'm the silhouette standing right underneath the sign...You can enter the Promenade without going through the Experience...this is that entrance if you do...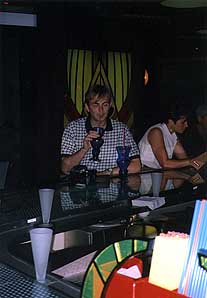 Since we didn't get to eat in the bar, we took our drinks over there after we ate for photo opportunities. Our waiter could tell I was enjoying this whole thing, I'm sure, since he even came back with a little medical scanner (that actually had lights & whirred) while we were eating saying that he needed to check for possible contamination...hee, hee...!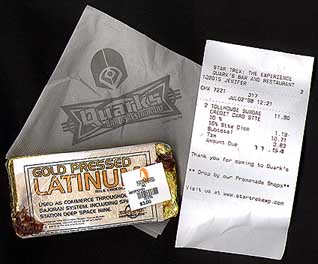 Here's some stuff...a napkin from Quark's (Marcus and I both stashed ours away as soon as the waiter left us!), a bar of gold-pressed latinum (chocolate), and the receipt from Quark's...click on the image if you can't read the "Thank you for coming to Quark's" line...!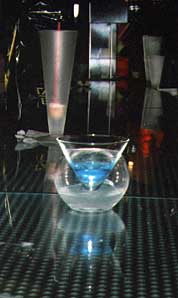 Boy do I wish I could have just sat there trying all the cool drinks they had! This is a Bolean Sunset, with the conical glass sitting inside the other...There was also a Warp Core Breach for two people that came in what looked like a fishbowl...it was red and looked like it could be some type of frozen drink, complete with dry ice smoke swirling around above the drink! I did try to get a picture of the taps that were labeled Romulan Ale, Klingon Ale, Cardassian Ale, etc... As for me, I had a Tranya with dinner...if you remember from the classic Trek episode The Corbomite Maneuver, tranya looked like thick orange juice...well, they ruined that look by adding cranberry juice...but it tasted fine...and Marcus had a Raktaccino, but it was frozen, unlike what Major Kira drinks every morning...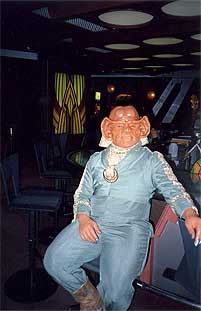 This Ferengi was great...completely in character, and obviously having a great time himself...There was an imposing female Klingon warrior that came around after the Ferengi left, but she intimidated a poor little man by grabbing his arm, guesturing at his empty glass and yelling, "You must drink MORE!" ...hee, hee...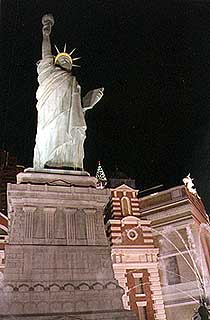 Of course, even though our main purpose for coming to Las Vegas was the Star Trek Experience, we had to see what we could see...this is New York, New York, the casino...could you guess?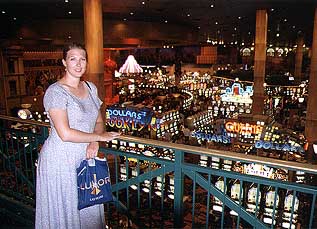 Here I am inside New York, New York...you might not be able to see how they had building facades all around the walls to make it look like you were in New York City in the 30's or 40's...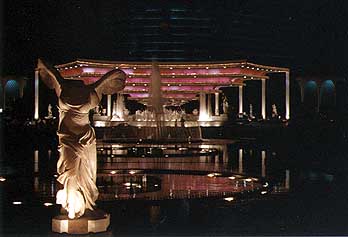 I came up with the idea for this photo...that's a replica of Victory in front of the fountains...this is in front of the entrance to Caesar's Palace...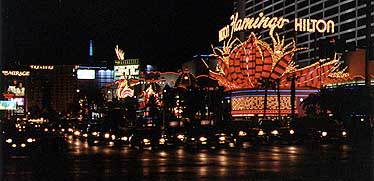 Here's a classic view of the Las Vegas Strip, with the Flamingo Hilton and its blinking onion domes in the foreground...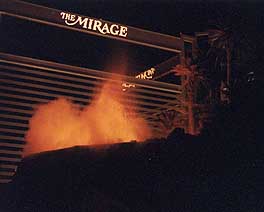 Believe it or not, this picture of the famous volcano at the Mirage was actually taken from the Miata! It happened to go off right as we were stuck in traffic next to it...what luck, huh?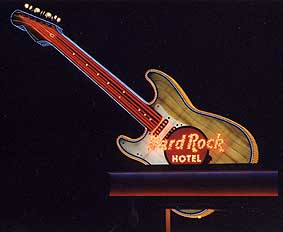 We of course had gone to the Hard Rock Cafe for me to acquire a shot glass for my collection...The Cafe is a separate building out in front of the Hard Rock Hotel and Casino, with the hotel's neon guitar pictured here...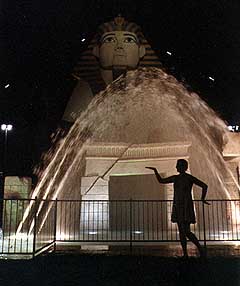 I knew this would be a silhouette, so I tried to "pose like an Egyptian"...(get it? A Bangles reference?)...Marcus took all these night pictures with 1000 speed film...I think they came out pretty good...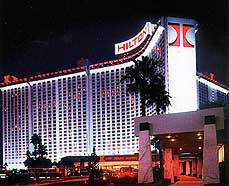 ...and finally back to "home sweet home", the Las Vegas Hilton (BTW, this is from the free postcard we got)...ready for sleep to be rested for our drive to the Grand Canyon the next day...



Copyright ©1996-2008 Britta Blvd. All rights reserved. All text, photos, graphics, artwork and other material on Britta Blvd
are copyrighted and may not be published, broadcast, rewritten or redistributed without prior written consent.


to the travels index