Travels in Calfornia, Nevada and Arizona: July 1998

Alcatraz... San Francisco... various Bay Area excursions...
Las Vegas, Nevada... the Grand Canyon, Arizona...
---
Travels around the Bay Area: July 1998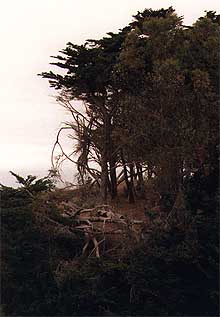 Since it was nice and sunny in San Jose, we decided to replay my first coastal drive in my convertible since I thought it was so nice when I drove it (mostly up Highway 1)...Little did we know that there were clouds as far out into the Pacific as the eye could see, but the clouds stuck on the mountains right before San Jose...We took the drive anyway, stopping in Davenport along Highway 1 to take this picture...I liked the contrast between the gray dead wood and the lush greenery surrounding it...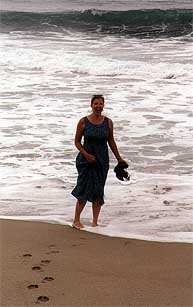 I was determined to stop at a beach, so here I am wading...For a better view of the look on my face, click on the image...it was COLD water!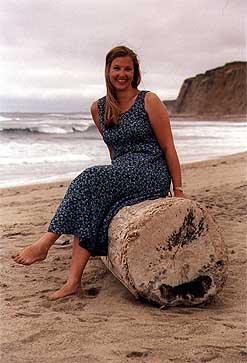 Marcus posed me and took this picture...Even for an overcast day, it's still a very nice picture, I think...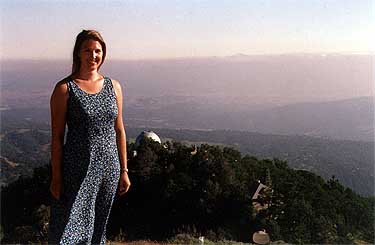 Since our coastal drive wasn't as successful as I'd hoped, we decided to try another drive I had heard about, but never driven. I'd been told the road to Mount Hamilton had lots of curves and should be fun to drive...Since the sun was staying out from San Jose and east, we drove all the way up to the top of Mount Hamilton...here I am there...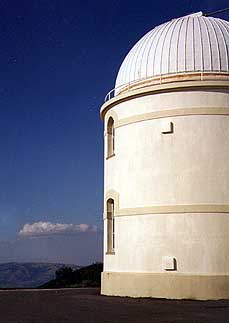 When we got to the top, we found an observatory! It was already closed that day, but we decided we wanted to go back when it was open...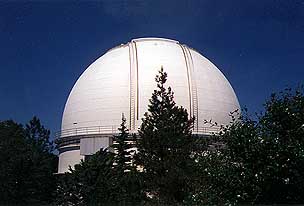 Lick Mill Observatory is owned by the University of California, and when it was first built at the end of the 19th century, this dome housed the largest refracting telescope that was open year-round...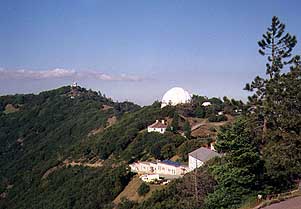 This dome houses the 120-inch reflecting telescope...Since you can support the mirror from underneath (it's not a clear refracting lens), you can make much larger reflecting telescopes than refracting telescopes...but maybe you already knew that...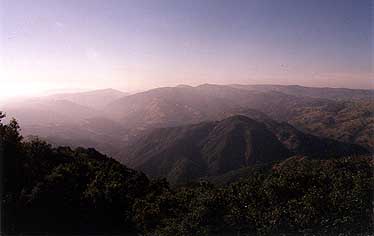 This is the view back out towards the bay from Mount Hamilton...I never realized there were so many hills there...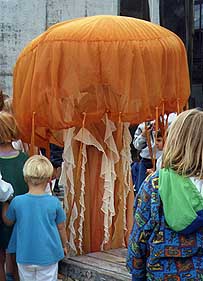 The next day we decided to try the Monterey Peninsula regardless of the weather report saying "mostly cloudy"...The pictures of Monterey itself were unimpressive in my opinion due to the overcast sky, but the Monterey Bay Aquarium was very cool! This jellyfish costume was great...I might just be a jellyfish this Halloween!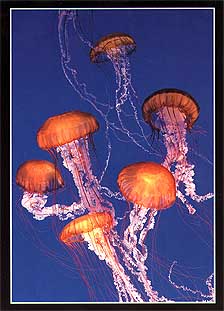 See how good the costume was at portraying these jellies? The jellyfish exhibit uses fluorescent lighting, which makes it very impressive, but very difficult to take pictures...so I just bought a postcard...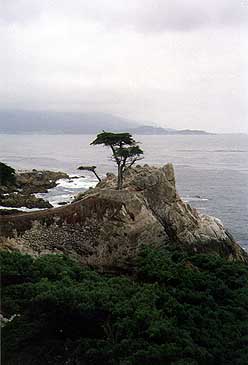 We also took the 17-Mile Drive in Carmel, which probably would have been nicer if we had any sun that day, but we still saw some impressive houses...but Marcus and I agreed that it reminded us of driving in Woodway where my Grandma Clouston lives up near Seattle...

This is the Lone Cypress, signposted as such along the 17-Mile Drive, and you can see why...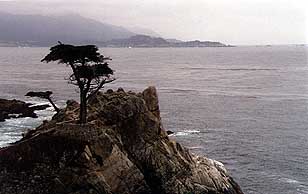 Marcus took an artsier photo of the Lone Cypress...I was already sick of the weather never clearing up just for when he was visiting...It had been sunny just the week before he got here, really!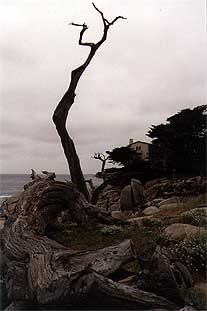 The Ghost Tree on the 17-Mile Drive...signposted as such again...very stark & lonely, especially with the overcast skies...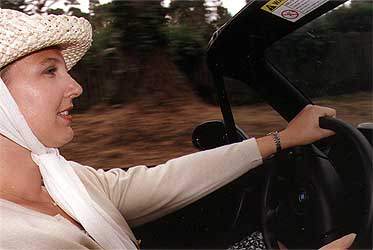 Since we did have sun in the convertible driving over to Sacramento the weekend before, I decided I could wear a hat...a little pretentious-looking perhaps, but with my love of hats and my brand-new convertible, you knew it was going to happen eventually...I was going for the vintage movie starlet look, can you tell? hee, hee...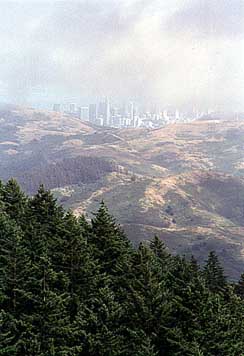 On our drive up into the Marin hills the following day, we got this picture before we hit so much fog we couldn't see...So much for a California summer, huh? I think the ephemeral city skyline through the misty hills is quite a photo...I'm glad I told Marcus he had to take it...hee, hee...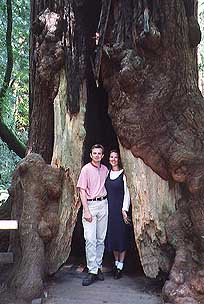 Since we were in the general neighborhood, we did a quick tour through Muir Woods...not really any real hiking of course, but we saw plenty of impressive California Redwoods...including this one we fit inside!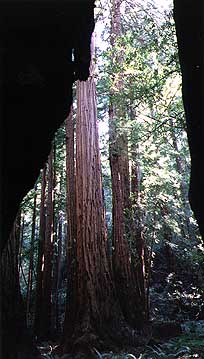 This is the view looking out from the same tree...I liked the tree's edges framing the other trees outside...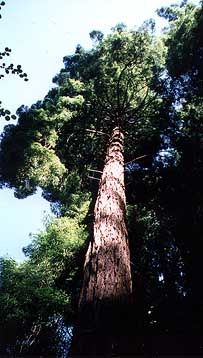 You have to lean back pretty far to see the tops of any trees...and sometimes you still can't see the tops, since the trees are so close together...






Britta showing just how much taller these California Redwoods are than she is...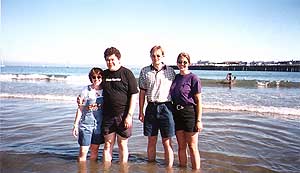 Netcom was nice enough this year to have the company picnic at the Santa Cruz Beach Boardwalk, with food and unlimitied rides all day long...Pictured here in the ocean surf are Beth, her husband Scott (another Netcom employee), Marcus and me...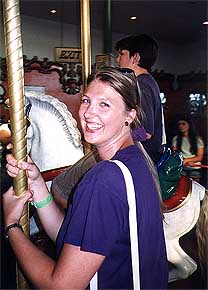 Of course we had to ride the carousel, especially since Marcus would only go on the roller coasters once and not again...Beth and I kept going on as many roller coasters as many times as we could...!


Here's a nice view of the Santa Cruz beach and Boardwalk...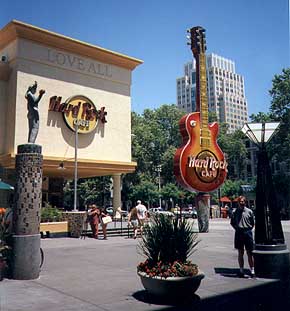 Here's Marcus in front of the Sacramento Hard Rock Cafe...Yes, I realize that Sacramento does NOT belong to the Bay Area, but it makes a good segue to the next section...Las Vegas...!



Copyright ©1996-2008 Britta Blvd. All rights reserved. All text, photos, graphics, artwork and other material on Britta Blvd
are copyrighted and may not be published, broadcast, rewritten or redistributed without prior written consent.


to the travels index