Travels in Calfornia, Nevada and Arizona: July 1998

Alcatraz... San Francisco... various Bay Area excursions...
Las Vegas, Nevada... the Grand Canyon, Arizona...
---
Travels in San Francisco: July 1998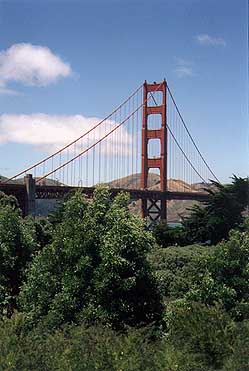 Most of these pictures were taken on our way to Marin County to see more of the North Bay...This was taken from the observation point right before crossing the bridge leaving San Francisco...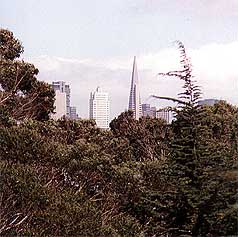 I knew my camera couldn't zoom this far, and Marcus' camera barely could, but I thought it looked really cool with just the tips of the city skyline over the trees...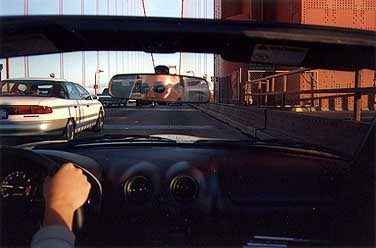 Now, remember that there is no back seat to the Miata...I told Marcus to take my camera & try to aim it best he could to see what happened...he even got my reflection in the rear-view mirror!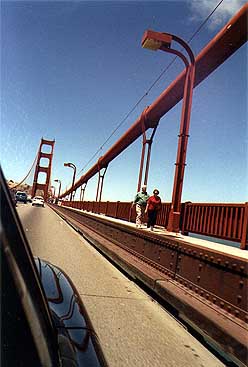 Marcus got the chance to be more creative since I was driving...I think this picture is really cool...the extreme perspective gives a sense of how impressive the bridge is...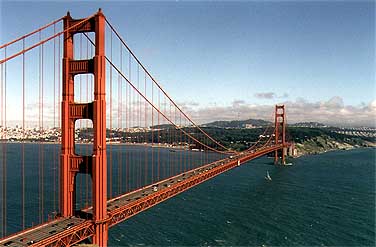 After driving as far up the hills in Marin as we could until we hit fog (see the Bay Area section for pictures of Marin), we drove out to Point Bonita, where it seems like you're hanging out in the middle of the Pacific Ocean...This photo was taken in the STRONG winds right at Marin Headlands as soon as you get across the bridge...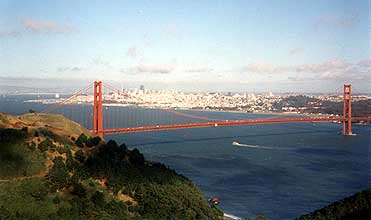 This is just about the last view of the city before Point Bonita, since you round a hill where all you can see is the huge expanse of the Pacific...


This panoramic was actually taken from Alcatraz, but I thought it belonged here with more Golden Gate pictures...
Next: various Bay Area excursions...


Copyright ©1996-2008 Britta Blvd. All rights reserved. All text, photos, graphics, artwork and other material on Britta Blvd
are copyrighted and may not be published, broadcast, rewritten or redistributed without prior written consent.


to the travels index