Travels Up the West Coast: July 1997

Day One: July 7th...Monday... Day Two: July 8th...Tuesday... Day Three: July 9th...Wednesday...
Day Four: July 10th...Thursday... Day Five: July 11th...Friday... Day Six: July 12th...Saturday...
Day Seven: July 13th...Sunday... Day Eight: July 14th...Monday and Day Nine: July 15th...Tuesday...
Day Ten: July 16th...Wednesday and The End...?
---
Travels Up the West Coast: July 1997
Day Six
Day Six: July 12th, 1997...Saturday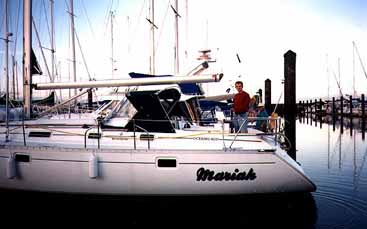 My mother's sister and her husband had offered to take us out sailing and crabbing on their new sailboat, so off we went to Anacortes to sail out into Puget Sound...Their boat is named the Mariah, as you can see here...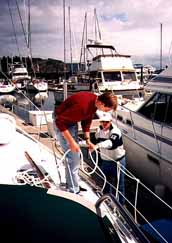 Marcus was really eager to help with the sails, but unfortunately there wasn't enough wind to use them...It made for a very calm, smooth day, though...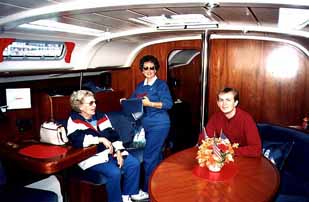 The Mariah has a very nice interior, with two bedrooms and two "heads"(one even with a shower!), and a teeny, tiny kitchen over in the corner...with still enough room leftover for the table in the middle!...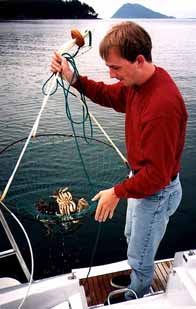 We "sailed" around until we came to their favorite spot for crabbing, then we put out the anchor and the crab trap...Here's Marcus seeing what we caught that time...We caught quite a few...enough for all five of us to eat our fill and still have some leftover!...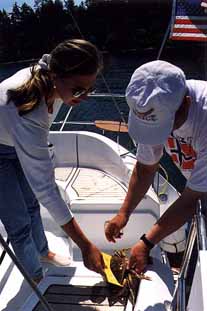 Of course, we have to check to see if the crab that we catch is large enough to be legal, so here I am trying to measure without getting pinched...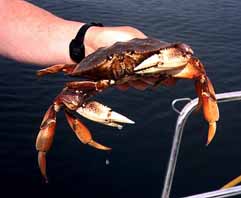 This is the biggest one we caught...I didn't watch my uncle kill them, but I did eat a whole crab myself...after they were cooked, of course...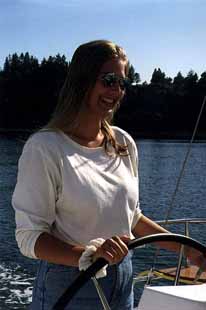 My turn at the helm...it didn't last very long...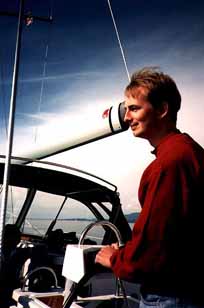 Marcus was much more excited to helm our craft than I was, even though he was disappointed we couldn't use the sails. He piloted the boat all the way back to the marina, but he didn't do the close maneuvering into the dock. If you look closely at the picture (or click on it to get a closer look), you'll see the Union Jack flying up on the mast....My uncle had put that up in Marcus' honor...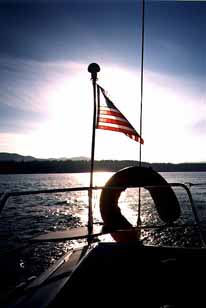 Another artsy attempt with my little snapshot camera...Not too bad, in my opinion, considering I thought I might end up with a big sunspot and that's all...A fitting end to a long, but fun and filling, day...



Copyright ©1996-2008 Britta Blvd. All rights reserved. All text, photos, graphics, artwork and other material on Britta Blvd
are copyrighted and may not be published, broadcast, rewritten or redistributed without prior written consent.


to the travels index