Travels in the United Kingdom 1997

Arrival... Oxford... Blenheim Palace... White Horse...
Wittenham and Dorchester... Thurlby... Portsmouth... Shows...
Wales... Stratford-upon-Avon... Scotland... Warwick Castle...
Stratford-upon-Avon II... Portsmouth II...
---
Travels in the United Kingdom 1997
July and later
Oxford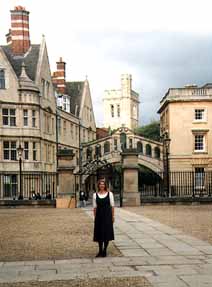 Anyone recognize this from The Saint with Val Kilmer running out of the Sheldonian Theatre right where the camera is? Well, it was a long shot, but I still think the bridge back above the street gives a unique feeling, as most of the Oxford architecture does. On a sunny day (which I've only had one in Oxford, and since it's only a 30 minute drive from Didcot, we've been there many times now!), the local stone that's been used in the old buildings shines a nice warm tan color...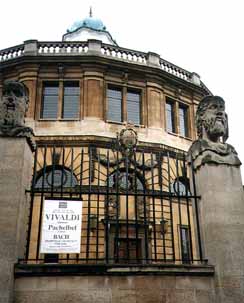 These heads on the gate are famous features in Oxford. This is the Sheldonian Theatre, where the graduation ceremonies are held for all the Oxford Colleges, and we even caught sight of a bunch of students in their robes before ceremonies one Saturday we were in town. My first Saturday in the country was spent in Oxford, and we were lucky to notice this poster and got tickets for the concert that night. Click on the poster if you'd like to read it more clearly...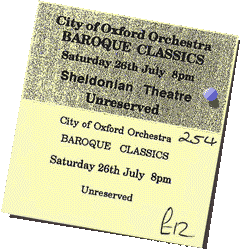 This is my ticket for the concert that night. They were excellent, and I do have to say that Pachelbel's Canon was really meant to be watched in performance rather than just heard over and over like it usually is...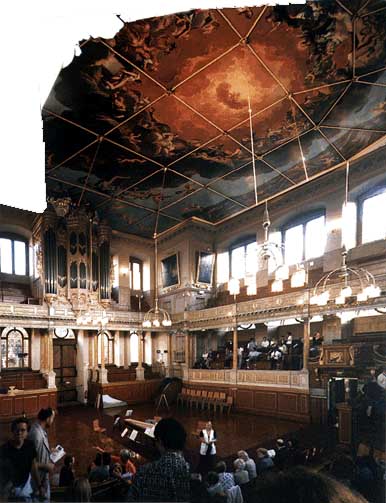 This is a composite of three pictures I took while waiting for the performance to start. The ceiling is beautifully painted, and I'd just love to hear that organ someday. Of course, the gallery up at the top is just big, uncomfortable wooden steps, and we had to sit on those since we got there a little later than we thought when we went to see the Mozart Requiem...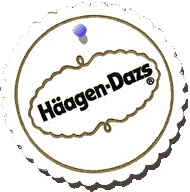 After the Baroque concert on the 26th, we treated ourselves to ice cream, which really hit the spot...Yum!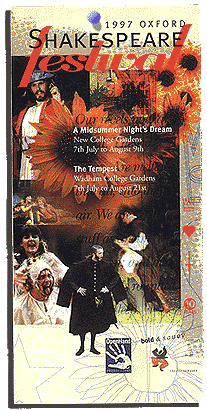 We had seen flyers advertising all sorts of summer Shakespeare in the Park shows, and since Marcus has only been exposed to Shakespeare of the Kenneth Branagh kind (i.e. films), I thought we should try to see some. We ended up missing the others, but we did catch a traditional performance of A Midsummer Night's Dream, which was a good time. We got to sit in the front row on the grass, so we had a great view...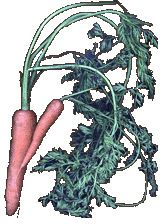 Of course, since we were in the front row, I was asked to hold the pantomime horse and was given a few carrots to keep the horse occupied, so here are the carrots...hee, hee...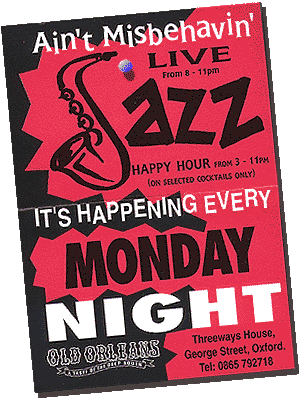 Old Orleans is a theme chain restaurant, kind of like TGI Friday's or the like, so it's obviously American-style, and it's theme is the American "Deep South". They have all sorts of musical instruments hanging on the walls (could someone explain to me why they think a cello and a baritone belong among the saxophones, trombones, accordions and other Dixieland jazz instruments?) and the New Orleans style cast iron railings everywhere. We've gone there for dinner once, and Marcus asked me if it felt like I was "back home"! I explained to him that I've never _lived_ in the Deep South, so it didn't really feel like home...but I thought it was funny that he asked. We've been back one Monday for the Happy Hour and Live Jazz night, and it was really fun. I'd like to go back, but we'll have to see when we have the time...






Marcus' friend Jonathan from his old job was finally quitting (he's the last of the group of friends to leave their common workplace where they all met), so we all went out to a pub in Oxford. I'd never seen these drinks before, so I decided they needed scanning! Since Marcus and his friend Andy both wanted to drink, the three of us took the train from Didcot to Oxford (Andy lives around the corner, so we all walked to the Didcot station). Well, I was relying on them for my transportation information, and they were sure that there were trains leaving Oxford after the pubs closed at 11pm...it was a Friday night, after all. But when we got to the Oxford station, the timetables said the last train to anywhere had left 30 minutes ago...so why were all these people standing around? We asked, and we got lucky, since there was a train going through Didcot that was 50 minutes late, so 15 minutes after our little heart attacks, we were safely on board on our way back home...



Copyright ©1996-2008 Britta Blvd. All rights reserved. All text, photos, graphics, artwork and other material on Britta Blvd
are copyrighted and may not be published, broadcast, rewritten or redistributed without prior written consent.


to the travels index