Travels in the United Kingdom 1997

Arrival... Oxford... Blenheim Palace... White Horse...
Wittenham and Dorchester... Thurlby... Portsmouth... Shows...
Wales... Stratford-upon-Avon... Scotland... Warwick Castle...
Stratford-upon-Avon II... Portsmouth II...
---
Travels in the United Kingdom:
October 1997
Stratford-upon-Avon II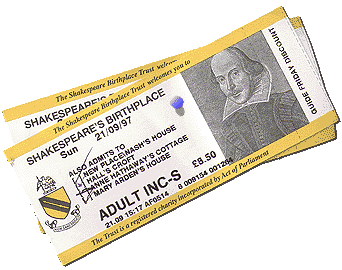 As you can see, we purchased the ticket to get us into all five of the houses, but we were only able to see Shakespeare's Birthplace last time...so we came back to "finish" Stratford...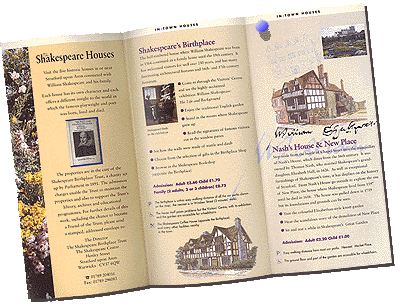 Here part of the flyer for the Shakespeare Houses. Unfortunately, New Place, which was the house Shakespeare lived in most of his life, was demolished back in the late 1700's, so now it's a nice garden with some foundations. The two houses not pictured in this section of the flyer are Anne Hathaway's Cottage and Mary Arden's house outside of town. We barely made it through Mary Arden's house, but we did see all five!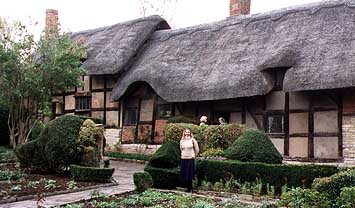 Here I an standing in front of the original Anne Hathaway's Cottage, since we had been to the replica in Victoria, BC...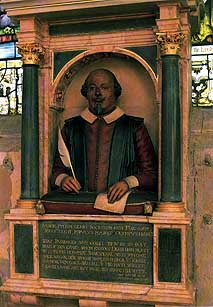 This time we also planned well in time to get into the Holy Trinity Church to see Shakespeare's bust and grave. Of course, they don't allow pictures, so I bought these postcards. Obviously, this is the bust, not the grave itself. It looks like that is a real feather to me, so I wonder who gets to replace it when it finally wears out...?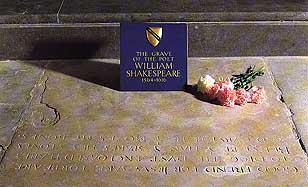 Here is Shakespeare's grave, with the famous epitaph...

GOOD FRIEND FOR JESVS SAKE FORBEARE
TO DIGG THE DVST ENCLOASED HARE
BLEST BE YE MAN YE SPARES THES STONES
AND CVRSED BE HE YT MOVES MY BONES



Copyright ©1996-2008 Britta Blvd. All rights reserved. All text, photos, graphics, artwork and other material on Britta Blvd
are copyrighted and may not be published, broadcast, rewritten or redistributed without prior written consent.


to the travels index