Travels in the United Kingdom 1997

Arrival... Oxford... Blenheim Palace... White Horse...
Wittenham and Dorchester... Thurlby... Portsmouth... Shows...
Wales... Stratford-upon-Avon... Scotland... Warwick Castle...
Stratford-upon-Avon II... Portsmouth II...
---
Travels in the United Kingdom:
October 1997
Warwick Castle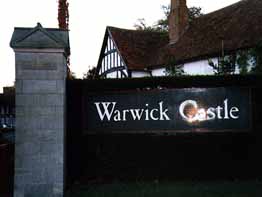 Wawrick Castle is extensive (and expensive!) enough that you need to spend a whole day there to be worth it, so we got there about 11am...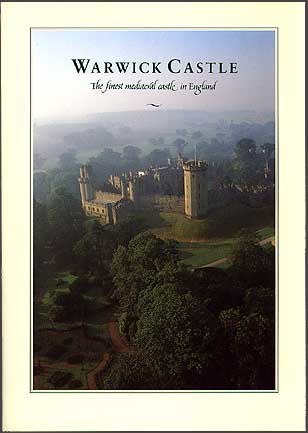 ...and since we had paid attention at Blenheim Palace and picked up a flyer, we not only got one of us at half price, but we also got a free guide book! The book is really nice, especially the photos, which explains why I didn't bother taking as many as usual...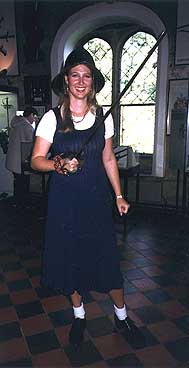 We also timed it just right to catch the first day of Battles and Duels Week, which meant not only did we get to see staged duels in costume, but we could also try on helmets, swords and other knightly accessories in the armory, like I did!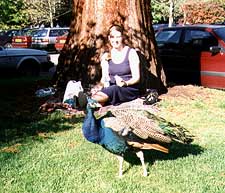 Since our ticket was good all day, we had packed a lunch and left it in the car. Since we had parked right be a tree anyway, we made ourselves a little picnic spot, and this peacock wandered by. He didn't open his plumage, but he was still beautiful glistening in the sun...



You can see how extensive the castle grounds are in this photo. To the left in the photo is the tower that is on your right as you come in the main entrance, and on the right of the photo is Ghost Tower at the back end of the castle...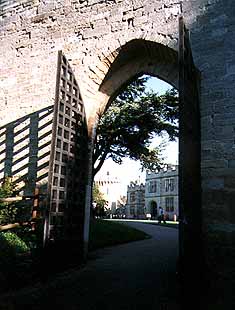 This is the side gate entrance, but I thought it gave a good view of insde as well as the castle walls. Can you believe that it was unseasonally warm enough that I wished I was wearing one of my summer dresses?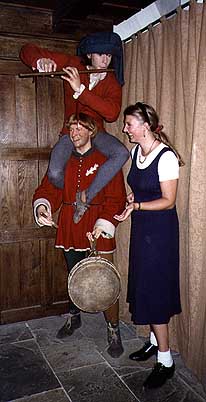 Inside one portion of the castle, they have a very realistic waxworks exhibit of how castle life was back in it's heyday. These musicians were tucked away in a corner out of sight (isn't that always the case?), so I had to get a picture with them...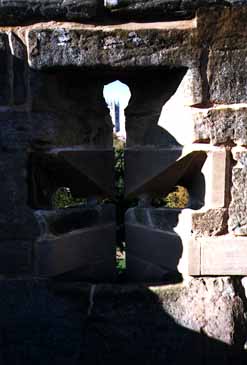 Yet another artsy attempt through a keyhole window...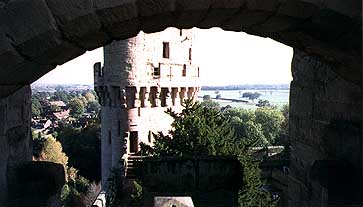 ...but Marcus isn't above finding frames for his photos either, as you can see here how he framed the opposite tower with the archway...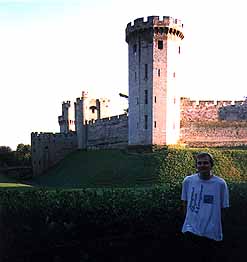 Too bad the sun was so bright (am I really saying that?) that the film couldn't handle the contrast here, but we still have to document our presence, right? hee, hee...



Copyright ©1996-2008 Britta Blvd. All rights reserved. All text, photos, graphics, artwork and other material on Britta Blvd
are copyrighted and may not be published, broadcast, rewritten or redistributed without prior written consent.


to the travels index