Travels in the United Kingdom 1997

Arrival... Oxford... Blenheim Palace... White Horse...
Wittenham and Dorchester... Thurlby... Portsmouth... Shows...
Wales... Stratford-upon-Avon... Scotland... Warwick Castle...
Stratford-upon-Avon II... Portsmouth II...
---
Travels in the United Kingdom 1997
Shows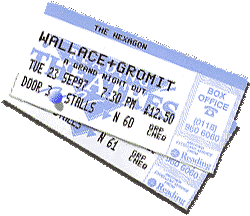 Netcom UK acquired some group discount tickets for a live-action Wallace and Gromit touring show that was coming through Reading, so we decided to go. How were they going to recreate plasticine animated characters on stage? We had to find out...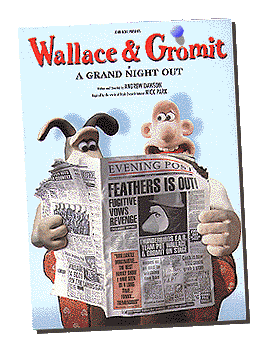 ...and we were pleasantly surprised! It was a very entertaining show, especially Gromit & Shaun the Sheep. Here's the flyer for the show, called "A Grand Night Out" (get it? The first Wallace and Gromit short was "A Grand Day Out")...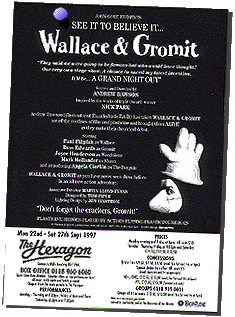 ...but I wanted to show you the back of the flyer so you could see some of how they figured out the costumes. If you can't see Feathers McGraw, the penguin, very well, you can click on the picture for a closer view...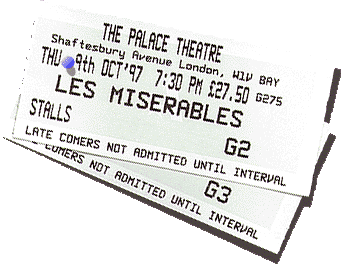 Since Marcus had never seen Les Miz before, and we had the chance to see it with Netcom people on another group discount, we decided to go. I have to say that this cast was much better than the cast of Phantom of the Opera I saw last time I was in London! These people could sing in key AND even act...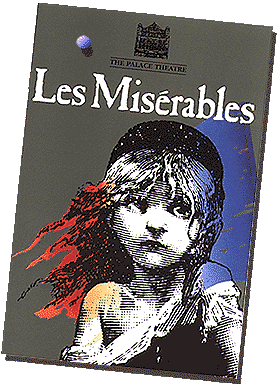 ...and here's the program. It's now been running at the Palace Theatre for 13 years!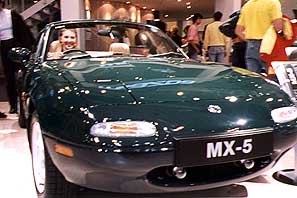 I joined Marcus and Andy at the London Motorshow, which did get a little boring for me after I'd exhausted looking at all the cute little convertibles. Here I am in a green Miata (MX-5 in the UK)...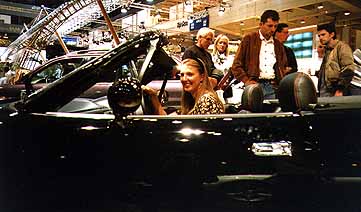 ...and here I am in the black "classic" model. Too bad they didn't take a picture of me in the turquoise TVR...that even had a matching turquoise leather interior!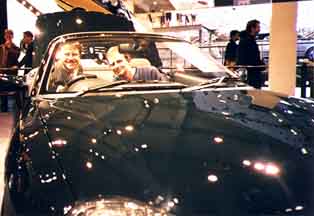 Of course I wasn't the only one sitting in convertibles. Here are Andy and Marcus in a green MG-F...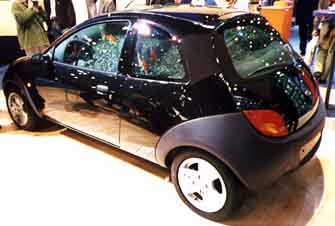 I don't think the Ford makes the Ka for the USA, but it is sure a strange looking car, isn't it? I mean that it's strange-looking even when it hasn't been turned into a fishtank...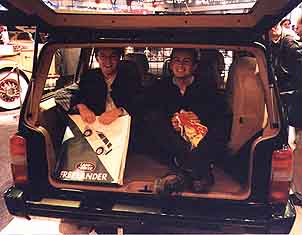 I can't remember which vehicle this is, but I have a vague memory of it being near the Chrysler area... Don't they look like two little boys who have been caught with their hands in the cookie jar...?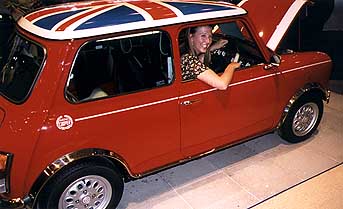 We caused quite a stir when I sat in the Mini Cooper and Marcus made such a big deal about getting a picture of the American in the quintessential British car! To see the Mini Cooper logo better, click on the image...but I still never would want to drive one of those. I just barely fit inside it as it was!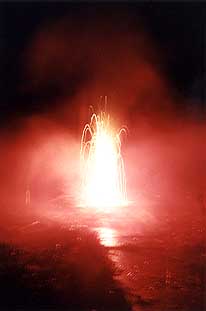 November 5th is Guy Fawke's Day, when Brits celebrate a man who tried to blow up Parliament by having huge bonfires, fireworks and burning stuffed "guys" in effigy on the bonfires. We tried to have our own bonfire and fireworks celebration at Jonathan and Kellie's, but all their wood was wet due to the rain. We still lit a bunch of fireworks, though, and Kellie had made a bunch of good food!



Copyright ©1996-2008 Britta Blvd. All rights reserved. All text, photos, graphics, artwork and other material on Britta Blvd
are copyrighted and may not be published, broadcast, rewritten or redistributed without prior written consent.


to the travels index