Travels in the United Kingdom 1997

Arrival... Oxford... Blenheim Palace... White Horse...
Wittenham and Dorchester... Thurlby... Portsmouth... Shows...
Wales... Stratford-upon-Avon... Scotland... Warwick Castle...
Stratford-upon-Avon II... Portsmouth II...
---
WALES MISSION REPORT: Page 2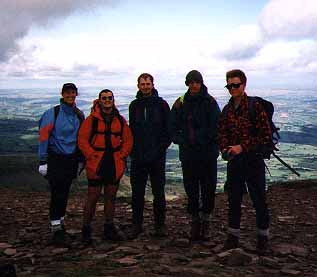 We made it! Here we are at the top, where we could barely stand due to the wind blowing so hard. What I thought was hilarious was that the sheep knew that everyone stopped to eat lunch at the top, so they braved the wind to beg for food...hee, hee...To see more of the view from here, click on the picture...




I thought the silhouetted ridges across the back of the summit were quite striking. This view is standing with our backs toward the way we've come (all the way around the ridge we're standing on), with the summit to our right...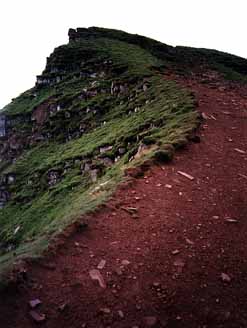 This is looking back at the other side of the summit, which we had just climbed down. I thought the layers of the red clay soil with the green grass were interesting...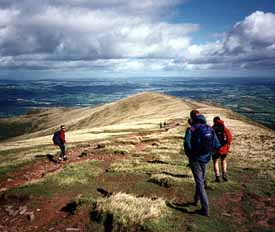 We walked along the ridge on this side of the summit for awhile...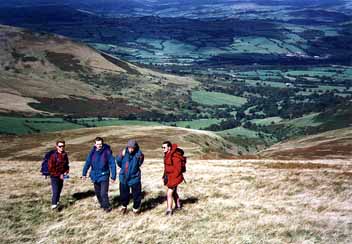 ...but we decided just to go straight down the hillside and make a beeline back for the car (which is down amongst the trees in the valley). My hips and heels were hurting due to my hiking boots not allowing my legs to climb at the right angles, as well as giving me blisters on my heels. We had already decided not to take on our second enemy in the afternoon...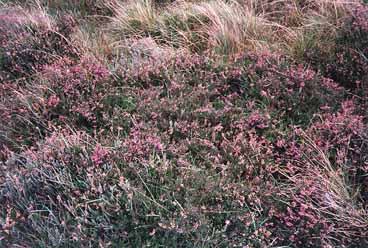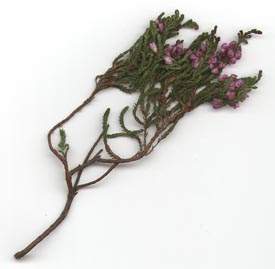 They all laughed at me for taking this picture of the "heather on the hill", but I'd never seen it before, and we all know how famous heather on the hills is from British literature and poetry we had to read in highschool, right? You can click on the sprig of heather for an extreme close-up view...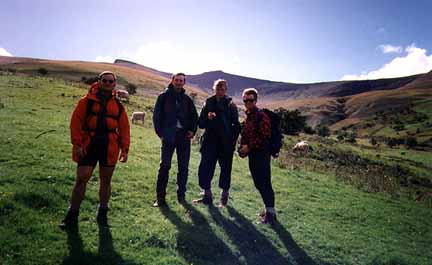 The cows had moved from their foresty glade out on the hills to graze, so here we are with the cows again on our way back!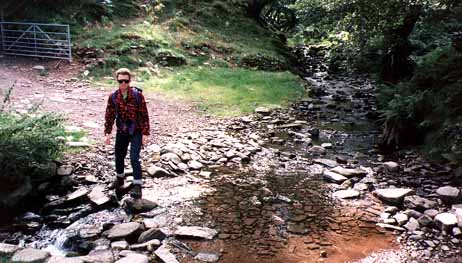 We had to ford this little stream, too, and here's Andy in action. It was a nice, little, babbling brook, but we didn't stay long. Remember that our food is still back in the car, and it was definitely lunchtime!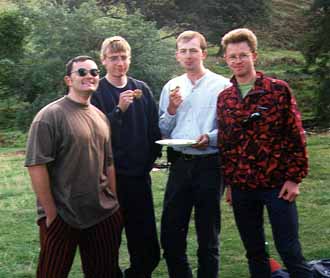 See what I mean? Here are the guys chomping down my Oriental Chicken Salad (oil and vinegar dressing, so I didn't worry about refrigeration), my oatmeal raisin cookies, and my chocolate chip cookies. I've been told I should put my recipes online, but it might be awhile before I get around to it...

To see what happens next, take the link to the next page...