Travels in the United Kingdom 1997

Arrival... Oxford... Blenheim Palace... White Horse...
Wittenham and Dorchester... Thurlby... Portsmouth... Shows...
Wales... Stratford-upon-Avon... Scotland... Warwick Castle...
Stratford-upon-Avon II... Portsmouth II...
---
Scotland: Fall 1997
From Gretna to Edinburgh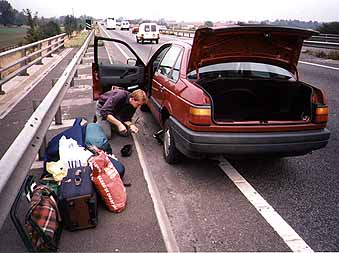 Well, here we're off to a good start, aren't we? We weren't even all the way to Abingdon (only 15 minutes away from Didcot) and we have a flat tire! We drove all the way around Scotland on the spare, since this was a Saturday, and the spare was a full-size tire at least...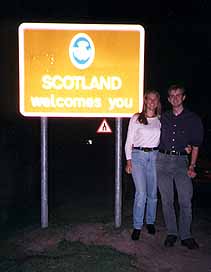 We made it all the way through northern England to the Scottish border by dark. This is the border at Gretna, which is famous for being the eloping "capital" for many years, since "marriage by declaration" was accepted in Scotland but not England, and also, you only had to be sixteen years old in Scotland. It was kind of like going to Reno or Las Vegas, I guess...You can click on the image to see what the sign looks like in the daylight when the flash reflecting in the road sign doesn't glare like this...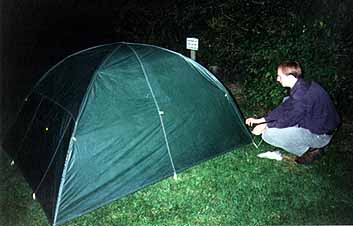 Of course, by making it to our first stop after dark, that meant putting up the tent in the dark, too, but Marcus did a fine job...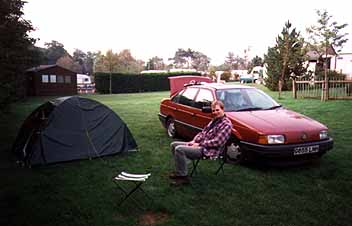 Now that it's daylight, we can actually see what our campsite looks like. Obviously, we're off-season for tent-camping, since the other people around are all in caravans/motor homes/trailers...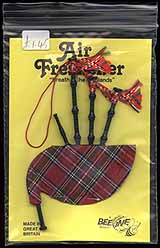 We went back to the Old Blacksmith's Shop (since the smith made quite a bundle performing quickie marriages back then, it became the tourist stop) to get some souvenirs. I thought this air-freshener was hilarious...!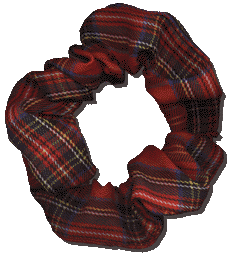 ...and Marcus bought me this tartan hair scrunchie...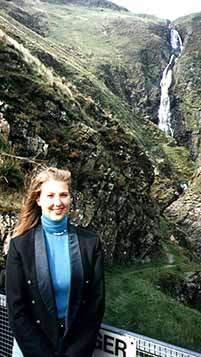 After our purchases were made, we took the advice of Marcus' Scotland guide book and took some lesser-travelled roads across to Edinburgh. This is Grey Mare's Tail Falls about smack-dab in the middle of the Scottish Lowlands...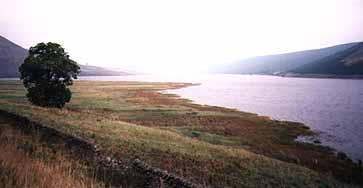 ...and here's more beautiful scenery along the way to Edinburgh. We were lucky going late enough in the autumn that the foliage had changed color, but not cold enough to prevent tent-camping...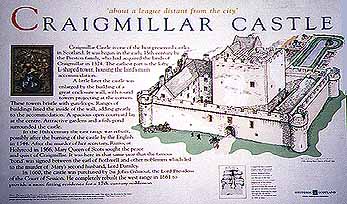 We made it to Edinburgh by Sunday evening, just in time to run around Craigmillar Castle before finding a campsite...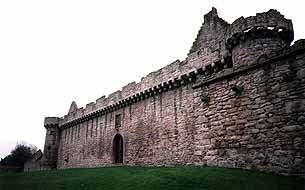 Craigmillar Castle is one of the best-preserved medieval castle ruins, so we were told by the sign, at least. I was impressed myself at all the floors and fireplaces that were still intact from so many years ago...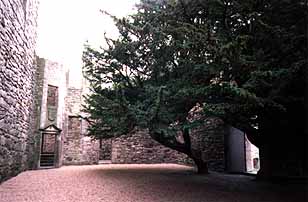 Right at the front entrance is this huge yew tree...growing right inside the front door! Very impressive...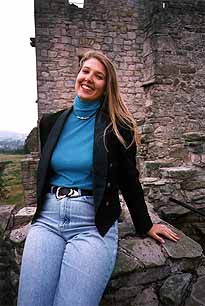 I wasn't kidding when I said "run around the ruins", since we did as much climbing as the safety restraints allowed. It was really windy up at the top, though!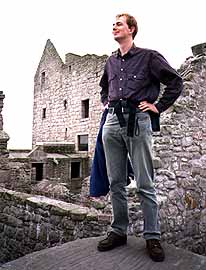 Marcus, King of the Castle...? Quite the regal pose, don't you think?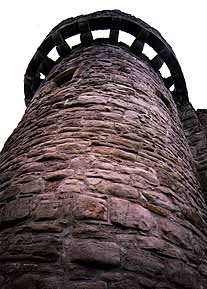 Here you can see how they left these spaces around the turrets so they could shoot arrows down at oncoming enemies, or even pour boiling oil or other nasty things...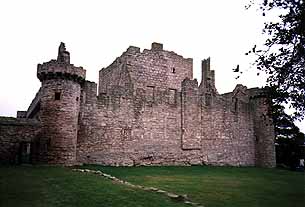 This is the right side of the castle if you are standing at the entrance. The castle itself is on top of an isolated hill just outside of downtown Edinburgh, so I'm sure it was quite a stronghold in its day...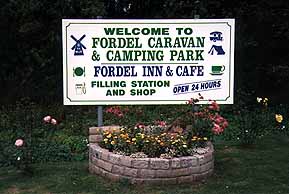 After driving around a little while trying to find a campsite that was still open, we found this place, which is a gas/petrol/fuel station as well as a small campsite well outside of the city...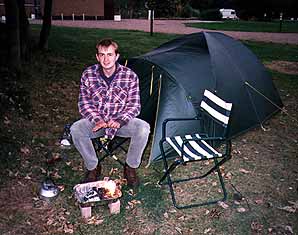 It was very windy and chilly, so Marcus tried lighting the portable barbeque we had brought with us (most campsites don't allow fires, which is a completely foreign concept to me! See here for more foreign concepts...)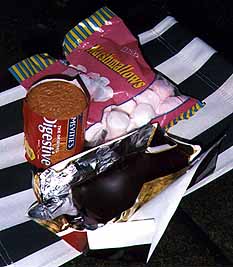 I really wanted a campfire of some sort so I could show Marcus what S'Mores are. He had never heard of them before (like I'd never heard of flapjacks that weren't pancakes?), so we tried to get equivalent ingredients, since I couldn't find the "real" ones. More detailed explanations of what I was looking for are on my observations page, but a S'More is basically a toasted marshmallow and chocolate sandwich made with graham crackers...and it's so good you want "S'More", see...?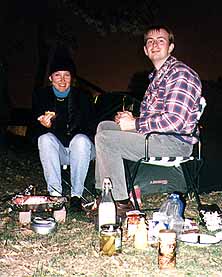 Here's an attempt at a timer shot with Marcus' new teeny-tiny camera that supposedly can flash but leave the shutter open for nighttime ambient lighting...It kind of worked...?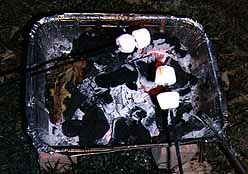 Well, you can see that we didn't have any sort of roaring fire, but we had enough coals to toast our marshmallows...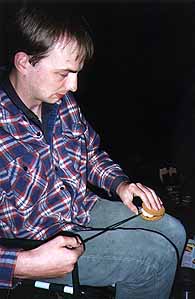 Here's Marcus making his first S'More...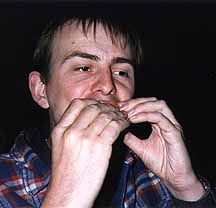 ...and here he is eating his first S'More! What's the verdict? S'More, please...



Copyright ©1996-2008 Britta Blvd. All rights reserved. All text, photos, graphics, artwork and other material on Britta Blvd
are copyrighted and may not be published, broadcast, rewritten or redistributed without prior written consent.


to the travels index