Travels in the United Kingdom 1997

Arrival... Oxford... Blenheim Palace... White Horse...
Wittenham and Dorchester... Thurlby... Portsmouth... Shows...
Wales... Stratford-upon-Avon... Scotland... Warwick Castle...
Stratford-upon-Avon II... Portsmouth II...
---
Scotland: Fall 1997
Edinburgh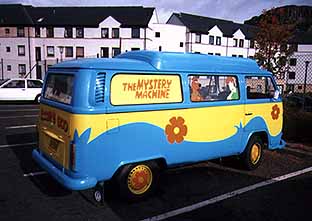 As we were searching for somewhere to park, what did we see but the Scooby Doo Mystery Machine! Click for a closer view if you can't see Shaggy and Scooby in the window. Velma, Daphne and Fred were on other windows around the van, and we noticed that they had even made their license plate UK legal, but looking like a USA old-style plate. Pretty darn cool, if you ask me!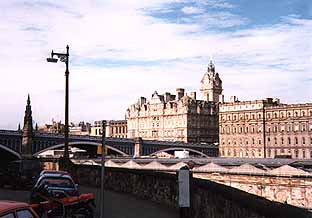 Our day started and ended sunny enough, although a little chilly, but the middle was quite overcast. Here you can see the sun lighting the Scottish Parliament building (I think?) very nicely...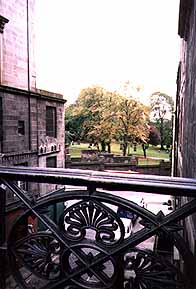 ...but you can see that it got overcast very quickly, hence the whited-out sky here. I thought this image had a lot of character with the wrought-iron railing and the soot-gray buildings in front, but the colorful autumn foliage in the background...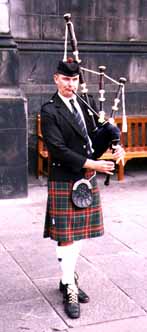 Of course you'd expect to see a piper somewhere in Scotland, right? He was very good, and since he posed so nicely for my picture, I gave him 50p in his case he had set out...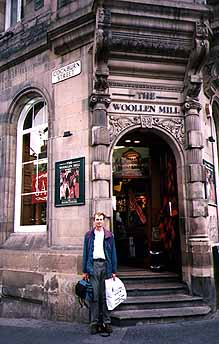 Since The Woollen Mill (not the Edinburgh Woolen Mill chain, as we discovered from the catalog) was having a sale, I decided I could get myself a cashmere cardigan, which I have been using just about every day since to keep myself warm!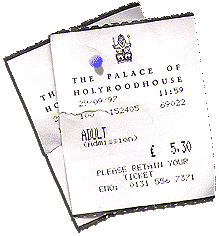 The Palace of Holyroodhouse is an official royal residence, like Buckingham Palace and Windsor Castle, but Holyrood is famous for it's ancient abbey as well as Mary, Queen of Scots...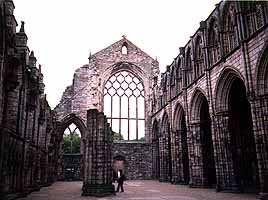 The palace itself didn't strike me personally as being very interesting, as opposed to the uniqueness of Windsor Castle, Hampton Court or Buckingham Palace, so I mostly took pictures of the old abbey ruins...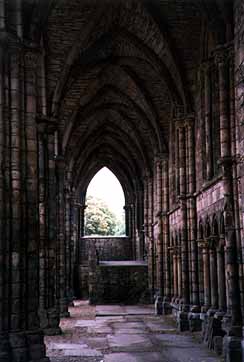 ...like these wonderful Gothic arches here...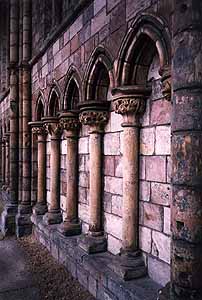 ...these architectural details in the side wall (note how each column's capital (top of the column) has a different pattern?)...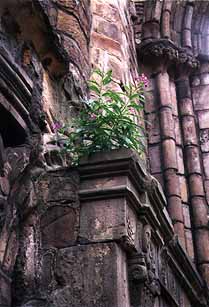 ...and this lone living, colorful flower amongst all the dead, gray stone...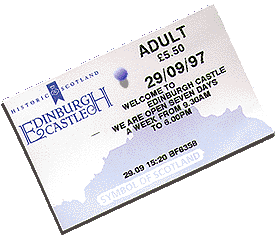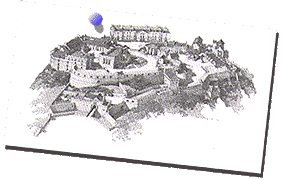 Of course, the most impressive landmark in Edinburgh is Edinburgh Castle up on it's rock outcropping. The back of the ticket shows a nice aerial line drawing of the castle...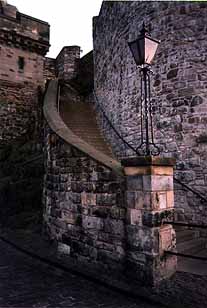 The castle grounds are quite extensive, especially since it's on several levels, and it takes lots of climbing up steps or going up the spiral ramp made for the horses.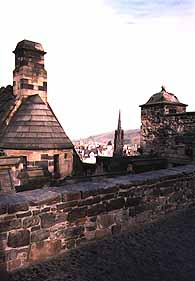 Here is a view looking back at old Edinburgh from the middle level of the castle...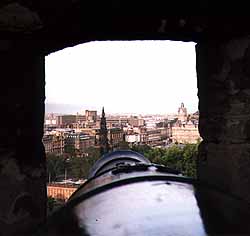 ...and here is a view looking out past the cannon into the Firth of Forth (which you can't see due to the misty haze not showing up on the film) over the rest of the modern city...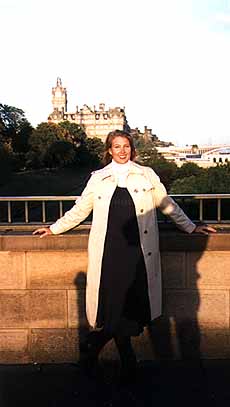 We wanted to go far enough to see the castle from a distance, especially since the sun was going down and would give us some really nice side lighting, so we hiked down the hill and across, taking this picture along the way...(if you pay attention, you can see Marcus' shadow in the picture!)



Marcus' panoramic photo of the castle came out better than any of mine. Here you can see that the castle uses the natural isolation of the ancient lava plug for the basis of its defenses...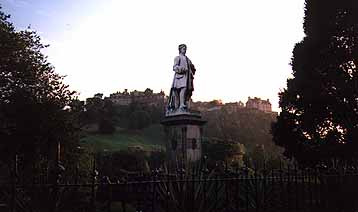 We tried some artsy attempts, too, and this one didn't come out too badly, I thought...


As we were walking around downtown, we saw advertisements for nighttime ghost tours of the city, so we thought we'd try one. It ended up being a little walk around some places and listening to our guide tell some decent ghost stories, all about Edinburgh, but the end was the best, since we went down into the crypts beneath the old bridge. When the bridge was built, they used the space underneath for workshops, records storage and even cheap housing, but it didn't last very long since it was too damp for the long-term. These crypts were forgotten until about 10 years ago when the landowner decided to find out what was behind those boarded-up doors on his property...and then he started making money by charging the tour groups for access! But it's still a good deal for the fun we had...



Copyright ©1996-2008 Britta Blvd. All rights reserved. All text, photos, graphics, artwork and other material on Britta Blvd
are copyrighted and may not be published, broadcast, rewritten or redistributed without prior written consent.


to the travels index