Travels in the United Kingdom 1997

Arrival... Oxford... Blenheim Palace... White Horse...
Wittenham and Dorchester... Thurlby... Portsmouth... Shows...
Wales... Stratford-upon-Avon... Scotland... Warwick Castle...
Stratford-upon-Avon II... Portsmouth II...

---
Scotland: Fall 1997
From Glencoe to Inverness and Back Home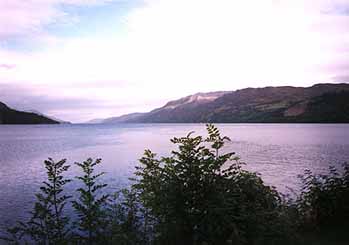 After a much better night's sleep with extra guidelines for the tent and parking the car as a windbreak, we started early for Glen Affric (reputedly one of the most scenic glens ever) by way of Loch Ness. This is the view of Loch Ness from Fort Augustus Abbey, which is at the southern tip of the lake...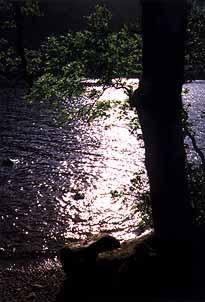 Farther along north, we stopped for another photo opportunity, with good results, I think. Still Loch Ness, by the way. It's a very, very long lake...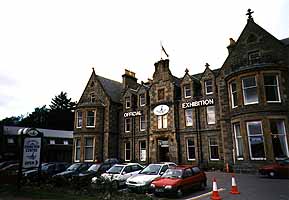 Drumnadrochit is famous as the spot where the most well-known photo of Nessie was taken, and nearby Urquhart Castle...Click on the image for a closer view of the sign...You can tell that this tiny town is capitalizing as much as possible on its claim to fame...!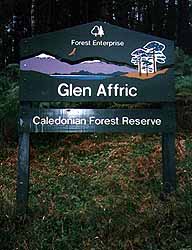 Here we've made it to Glen Affric, which is some of the last old growth Caledonian forest left, now obviously protected as a national park...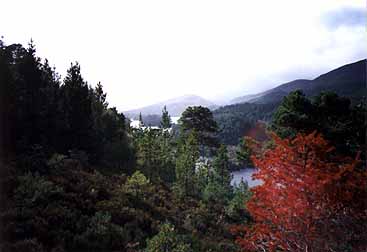 At some waterfalls there is a small parking lot, so we stopped at took one of the walks up through the forest until we found this viewpoint. Quite a nice view, especially with all the islands in the lake...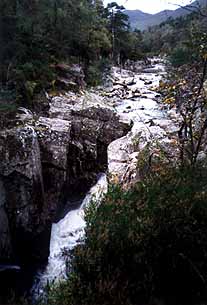 As we came back down another pathway, we crossed these waterfalls. My guess would be that this is towards the end of the River Affric, but I'm not sure...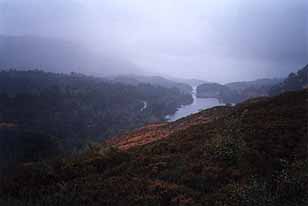 After our walk, we decided to see how far the road would go until it stopped, especially since the sun had gone away, and the mist couldn't decide if it wanted to be rain or not. This is one of the points where we stopped along the way. You can see those same islands better now...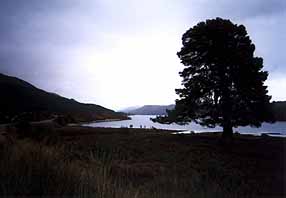 I really liked the contrasting colors (which unfortunately don't show up in the print?) and the tree silhouetted in the foreground, but it's still along the same road in Glen Affric...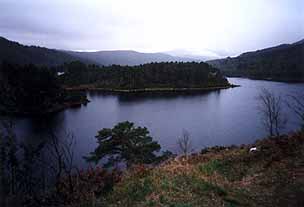 When the road finally stopped, it was already too late to try walking any farther, so we parked in the lot and went up this hill which is marked with a memorial at the top. This is the only picture where you can look closely and actually see the famous Scottish heather (the purple bush in the lower left foreground). Since it was the fall, not many blooms were left to stand out against the orange ferns, but up close you could still see heather everywhere. This is because the Higlands are either rocky or boggy, so the ferns and heather grow fine, but not much other flora...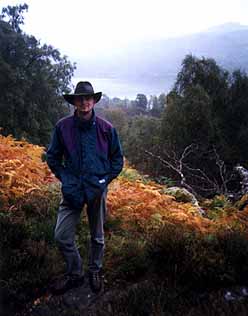 Halfway down the hill again, we stopped for pictures that include us! Here's Marcus with the view behind him...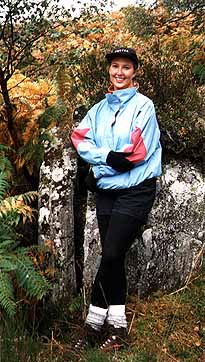 ...but we decided to get daring and have me standing looking at the same view...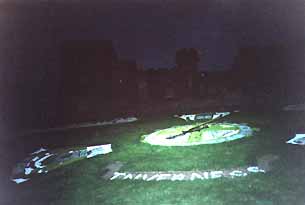 Since we were already halfway along Loch Ness, I convinced Marcus we should get all the way to Inverness and have another famous Scottish city under our belts. It took awhile, but we did make it. Believe it or not, this is Inverness Castle, which is fairly modern, but unique in that it's built of red sandstone. Since I can't turn off the flash on my camera, I had to tweak this image a lot in Photoshop so you can barely see the silhouette of the castle on the hill...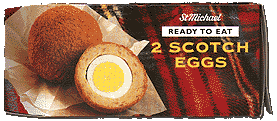 Of course, with such a day like this, Marcus "Hollow Leg" Fosker was hungry. I figured I could hold out until we got back to our camping food, but Marcus got Burger King and we shared these Scotch Eggs from Marks and Spencers. If you can't tell from the picture, it's a hard-boiled egg that's coated with a ground pork batter then fried...Can you say "cholesterol"...?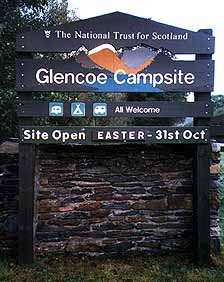 We did finally get our fire started and food cooked by about midnight, since we did have to drive the full length of Loch Ness back to Glencoe, but we did get enough rest to pack up everything and drive the whole way back to Didcot the next morning...



...but before we left the Highlands, we kept stopping to take pictures. Well, who could pass up a chance like this?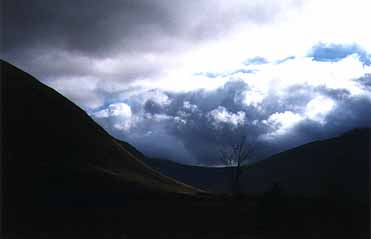 ...or this even? Talk about dramatic...!



Copyright ©1996-2008 Britta Blvd. All rights reserved. All text, photos, graphics, artwork and other material on Britta Blvd
are copyrighted and may not be published, broadcast, rewritten or redistributed without prior written consent.


to the travels index